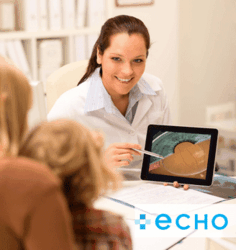 "ECHO is designed to complement any patient education style."- Jeff Peres, Eyemaginations President and CEO
Baltimore, MD (PRWEB) June 05, 2013
Leading patient education provider Eyemaginations announced today the launch of two applications for ECHO, the new software solution that allows healthcare professionals to communicate with patients from any Internet-based device. The new ECHO Windows App and the ECHO iPad App are designed to complement the existing ECHO offering by providing doctors with a way to download and play content on devices even without an Internet connection.
The new ECHO Windows App provides a platform for quick playback in the waiting room or exam room with no streaming delays. Once presentations have been downloaded, they can be played at any time from the ECHO Windows App directly on a PC or on a PC connected to a waiting room television. The new ECHO iPad App is a native application that downloads and plays user-designated favorite media. Both apps feature on-screen drawing functionality and split screen views for the exam room.
When used together, the ECHO website, the ECHO Windows App, and the ECHO iPad App combine the full variety of Eyemaginations content into one centralized library. The system is designed to help healthcare professionals communicate with their patients everywhere they are thinking about their health, including before the appointment, in the waiting room, in the exam room, and after the appointment.
The ECHO website is designed to handle all administrative activities such as building playlists, importing personal content, and setting up favorites. The user simply logs in from any web browser to make changes or stream media instantly. Once the ECHO Windows App and iPad App have been downloaded and the desired content has been synced, the content can then be easily accessed and played from either App with no Internet connection required—ideal for those areas of a practice that might not be optimal for streaming.
"ECHO is designed to complement any patient education style," said Jeff Peres, President and CEO of Eyemaginations. "From the doctor who is simply trying to educate patients by showing animations in the waiting room to the doctor who prefers using an iPad presentation in the exam room, ECHO provides a solution for everyone."
Other features of the ECHO system include full integration with various social media platforms as well as high compatibility with most popular, Internet-based devices. An additional new reporting feature allows the user to also monitor the success of presentations by tracking patients' viewing habits.
The full ECHO solution is available at flexible subscription levels that work for any size practice. Those interested in learning more can request a free demo by visiting the Eyemaginations website on the Take a Demo page.
About Eyemaginations
Eyemaginations, Inc. is a healthcare media company focused on solutions that support professionals, patients and corporations in communicating and understanding complex topics. The company's in-depth experience with animation, design and software has enabled Eyemaginations to create integrated systems that provide clear and concise education solutions. Eyemaginations has a comprehensive solution for eyecare, ENT, audiology, and facial aesthetics. Eyemaginations may be reached by phone at 877.321.5481, email at marketing(at)eyemaginations(dot)com or online at http://www.eyemaginations.com.