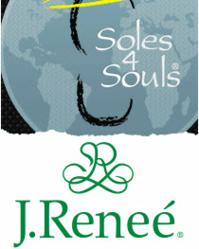 J.Reneé is committed to do our part and partnerning with Soles4Souls is a privilege and an honor.
(PRWEB) June 05, 2013
Leading women's shoe retailer, J.Reneé, recently shipped 125 pairs of new shoes to Soles4Souls in wake of the recent Oklahoma tornado tragedy.
In response to the devastation caused by one of the largest tornadoes in history that ripped through Moore, Okla., area on May 20th, J.Reneé recently partnered with Soles4Souls, a non-profit that helps fight the devastating impact and perpetuation of poverty, by donating 125 pairs of women's shoes to survivors in Oklahoma to help them rebuild their wardrobes.
"Giving women more opportunities to feel fabulous extends way beyond a woman buying a new pair of shoes," says President of Sales for J.Reneé Eric Harrison. "It means lending a helping hand in times of need and letting women know that there are people who care and want to help when life takes unplanned turns. J.Reneé is committed to do our part and partnering with Soles4Souls is a privilege and honor," says Harrison.
About J.Reneé:
For over 30 years, J.Reneé has been a leading women's footwear and fashion accessories retailer for classic and sophisticated women looking for style and comfort. Offering a wide variety of dress shoes, special occasion and bridal shoes, casual sandals, boots, hats, and accessories, J.Reneé includes extended sizes and widths for every customer. Bold colors and embellishments serve as the base for their signature style, alongside a bevy of exotic prints and leathers. To see what J.Reneé can do for you, visit http://www.jrenee.com.
About Soles4Souls:
Soles4Souls is a global non-profit organization that is dedicated to fighting the devastating impact and perpetuation of poverty. The organization advances its anti-poverty mission by collecting new and used shoes and clothes from individuals, schools, faith-based institutions, civic organizations, and corporate partners. Based in Nashville, TN, Soles4Souls is committed to help those in need. For more information visit, http://www.soles4souls.org.