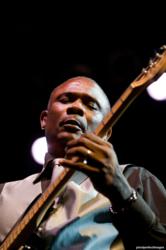 I invite all my friends and fans to come and join me for a lively night of Blues at Habanos Cigar & Wine Lounge.
San Diego, CA (PRWEB) June 04, 2013
Habanos Cigar and Wine Lounge is hosting the Stoney B Blues Band on Friday, June 14 for a live performance. Located on the corner of Rosecrans and Hancock Street, the performance begins at 7pm and runs till 11pm.
Stoney B's soulful licks and brilliant guitar riffs and his dynamic vocals will transfix you as he delivers heart and soul felt Blues. His quick wit and storytelling will have you entertained and amused. Stoney B's talent and wonderful gift of communication will be sure to grab your attention as he brings you into a truly enjoyable, masterful and often humorous experience of his entertaining Down Home Blues.
Three large enclosed patios provide a festive ambiance for friends to enjoy great blues music, friendly conversation, food, premium wines, craft beers and cigars. The center of the main patio sports a warm and inviting fire pit. Plenty of free parking is available. A friendly and knowledgeable staff is there to answers questions and serve customers.
For the beer lovers, the new taps are in and pouring craft beers from local San Diego breweries. A special menu of culinary delights is always prepared for the special live events.
"Anybody that loves real down home Blues music needs to be here." commented Wade Alkhouri, proprietor, wine connoisseur and cigar aficionado, "After seeing him perform and the audience's reaction I knew I had to have him come and play at Habanos for our patrons. I did it! So come and enjoy an awesome night of real Blues."
"I have heard about Habanos Lounge and am very happy to be invited to play there." commented Stoney B, "I promise my band and I will give you an evening of pure Blues entertainment you will long remember."
ABOUT STONEY B
Stoney B was born in Chicago. Stoney B's passion for the Blues really took hold when he began teaching himself the Bass Guitar at the age of 13 and formed his first band at the age of 15.
During Stoney B's career he has played behind well known Blues Musicians such as Buddy Guy, James Cotton, Junior Wells, Koko Taylor, Johnny Guitar Embry and the Blues Kings, Son Thomas, Homesick James, Lovie Lee, Roosevelt Boobie Barnes and Willie Mississippi Foster.
In 2012, Stoney B, with 44 years of experience has become a highly accomplished Guitarist, Vocalist, Songwriter and Recording Artist of the Blues. He feels and shares at a soulful level the essence of the Blues with strong influences from Muddy Waters, BB King and Jimmy Reed.
EVENT INFORMATION
NO cover charge
Friday, June 14th
7pm to 11pm
Habanos Cigar and Wine Café
3111 Hancock St corner of Rosecrans
Just South of Hwy 8
619-692-0696
ABOUT HABANOS CIGAR AND WINE CAFÉ
Apx 3,000 sq. ft.
600 sq. ft. walk in humidor
The three large enclosed patios provide leather sofas, booths, tables and chairs.
The main patio sports a warm and inviting fire pit.
Patio 2 has a real wood burning fireplace
5 large screen TVs
Full Tapas kitchen
Huge premium wine and craft beer selection
Espresso and specialty coffee drinks
Free parking
Hours of Operation
Sunday to Thursday 10am to 10pm
Friday & Saturday 10am to midnight