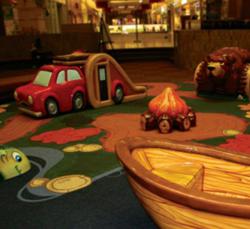 Elkhart County is the undisputed worldwide capital for recreational vehicles. Our new play area speaks to the thousands of our customers who work within that industry.
Elkhart, Indiana (PRWEB) June 06, 2013
"Elkhart County, Indiana is the undisputed worldwide capital for recreational vehicle manufacturing and industry," says Robert L. Thatcher, GM and Director of Leasing. "Our new mall play area, created by PLAYTIME, really speaks to the thousands of our customers who work within that industry."
Owned by Triyar Companies, Concord Mall is "40 years young," says Thatcher. Until recently, the shopping center still featured an indoor fountain, which was part of the mall's original construction. Though the fountain hadn't worked in some years, it had been turned into an attractive planter for dozens and dozens of indoor plants.
"We continue to enhance the facility physically as well as with retailers that serve our large family demographic," says Thatcher. "Thankfully, with ownership support, we were able to replace the large fountain and found that the highest and best use for that space would be a PLAYTIME play park."
PLAYTIME, LLC is a commercial playground manufacturer and the global provider of unique, interactive, soft play areas and playground equipment for indoor, outdoor and water play. Concord Mall's entirely custom toddler playground, called "RV Play Park," includes a fishing boat, camper, towable RV, pickup truck and a motor home.
Thatcher says he had known David O'Niones, VP of Sales for PLAYTIME, for many years, so when the opportunity to create a play area arrived at Concord Mall, he picked up the phone.
"We all like projects that are completed on schedule and on budget," says Thatcher. "The PLAYTIME team was fantastic to work with. I would champion the PLAYTIME brand. They are a great creative team."
Deb Alwine, SLD, Concord Mall's Marketing Director, says that the play area is especially unique because it is in a sunken court with a skylight dome above it.
"There is a lot of natural light giving it a true park-like atmosphere," says Alwine, who says that the mall holds more than 90 events every year for families in the community.
"When you visit a place often enough, you start to take ownership," says Alwine. "We are hoping that these kids will make new memories of coming to Concord Mall, just like their parents who remember the fountain fondly from their own youth."