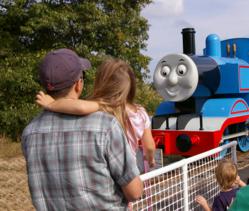 "He is real" -- Actual Thomas fan upon seeing the really useful engine for the first time
Carver, MA (PRWEB) June 06, 2013
The world's most recognizable engine has been entertaining kids since 1945, and his popularity continues to grow even in an age when kids have many more high-tech entertainment options. On June 15, he rolls into Edaville USA for Day Out With Thomas 2013: The Go Go Thomas Tour. As in years past, trains are selling out fast, underlining Thomas's continued popularity with toddlers and their families.
Thomas the Tank Engine is a character from The Railway Series of books first published in 1945, dealing with the adventures of a group of anthropomorphised trains and road vehicles living on the fictional island of Sodor. The stories and animation are simple, and the lessons and morals are timeless – some might even say old fashioned. Most Americans were introduced to Thomas through the TV series Thomas and Friends, first broadcast in 1984, with voice-over provided at various times by Ringo Starr, George Carlin, Alec Baldwin and Pierce Brosnan.
Day Out With Thomas the U.S. tour launched in 1996 and has been growing in popularity ever since. For 2013, there will be 240 event dates at 43 heritage railroads throughout the United States. That translates into over a million passengers this year alone, with over 75% of these being little engineers taking their very first train ride. Many of these kids will return every until they outgrow Thomas, usually about age seven.
In June, Day Out With Thomas returns for its twelfth year at Edaville. This whistle stop features a 20-minute ride on a life-size Thomas winding through virgin forests and working cranberry bogs. Guests can meet Sir Topham Hatt, enjoy Thomas-themed activities, live music and unlimited use of all amusement rides.
Day Out With Thomas at Edaville will run June 15-16 and 21-24. Tickets are $20 for ages 2-59, $16 for seniors ages 60 and up, and under age two is free. Tickets are on sale now by calling toll-free 866.468.7630 or logging onto http://www.ticketweb.com/thomas.html. For more information and directions, contact Edaville USA at 508-866-8190 or visit http://www.edaville.com .
About Edaville USA
Edaville USA is a train-themed family amusement park located in the heart of cranberry country. This New England tradition features an authentic narrow gauge railway winding through picturesque cranberry bogs, as well as unlimited use of 12 vintage carnival rides and beautifully decorated indoor and outdoor play spaces. Edaville hosts many special events in the fall and winter, including the National Cranberry Festival and fabled Christmas Festival of Lights. Edaville is conveniently located less than an hour from Boston and Providence. For more information, visit http://www.edaville.com or follow Edaville on Facebook at http://www.facebook.com/EdavilleUSA .