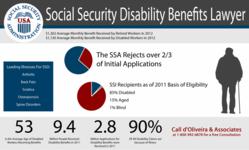 (PRWEB) June 07, 2013
A d'Oliveira & Associates disability attorney recently recovered an award for a Seekonk client (name withheld due to confidentiality concerns) during his appeal for benefits before an administrative law judge (Boston Office of Disability Adjudication and Review, Case Number: TN-12604). The client had first applied for benefits back in December of 2010 and his request was denied by the Administration in June of 2011. According to the complaint, the client became disabled in 2009, having suffered primarily from a severe hip injury, but also osteoarthritis and high blood pressure. The client had several hospital visits to both doctors and orthopedic specialists to find out about the hip injury as well as have a consultation for surgery. To manage pain, the client relies on his daily pain management regimen during which he takes prescribed pain relievers multiple times throughout the day. Not knowing where to turn after being denied Social Security Disability benefits once, the client hired disability attorney Cara Gallucci of d'Oliveira & Associates.
With the help of Attorney Gallucci's legal representation, the client was ultimately found eligible for benefits after a hearing before an administrative law judge. Attorney Gallucci's experience in handling SSD cases ultimately helped this man win a Social Security Disability award of over $78,000. She stated, "I am very pleased that we were able to obtain a favorable award for this client. He was a professional, with a very large annual income, and had a significant loss once he was unable to work. Not only did we recover back benefits for him of over $78,000, but also approximately $18,000 in back benefits for each of his minor children."
Hip injuries may qualify as a disability under Administration standards (i). A hip injury characterized by chronic joint pain and stiffness with signs of limitation of motion or other abnormal motion can be deemed a disability of the affected individual. Many individuals who are disabled and unable to work are denied benefits after their first application because they do not know how to prove their disability to the Social Security Administration. An applicant can challenge a denial of benefits through the Administration's appeals process. The steps of the appeals process include reconsideration and a hearing. Appeals must be filed within 60 days of receipt of the decision letter (ii). Disability representatives can be invaluable in obtaining approval of benefits. The Administration's Office of Inspector General found that hiring a disability attorney significantly increases chances of approval (iii).
d'Oliveira & Associates has experienced attorneys who have been handling disability cases for a number of years now, helping clients get the benefits they are entitled to. The firm has offices located throughout both Rhode Island and Southeastern Massachusetts, and the injury and disability lawyers at the firm stand ready to represent individuals who believe they have a potential injury or disability claim.
Call 1-800-992-6878 for a free consultation, or visit d'Oliveira & Associates online at: good-legal-advice.com.
LINKS:
(i) Social Security Administration. 2013. (http://www.ssa.gov/disability/professionals/bluebook/1.00-Musculoskeletal-Adult.htm#1_02)
(ii) Social Security Administration. 2012. (http://www.ssa-custhelp.ssa.gov/app/answers/detail/a_id/189/kw/appeal)
(iii) Office of the Inspector General – Social Security Administration. 2010. (http://www.oig.ssa.gov)