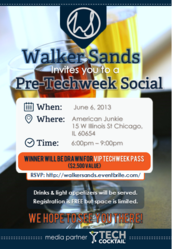 Chicago (PRWEB) June 04, 2013
Walker Sands, a public relations and digital marketing agency for B2B and technology companies, has partnered with Techweek Chicago to host a pre-Techweek Chicago LAUNCH social, with promotional support from media company Tech Cocktail. The event will be held from 6 to 9 p.m. on Thursday, June 6, at American Junkie, 15 W. Illinois Street.
Techweek Chicago will publicly announce the 70 companies participating in its LAUNCH event at the social. Walker Sands is also sponsoring LAUNCH, which invites startups to demo their products and services in front of guest judges and Techweek attendees.
Drinks and light appetizers will be served and all guests will be entered into a drawing to win a VIP Techweek Chicago pass valued at $2,500. A private pre-screening of "The Internship" will occur following the social for Techweek conference badge holders and social guests.
"Chicago is a thriving ecosystem for technology companies and entrepreneurs to collaborate and develop the next big technology innovations," said Mike Santoro, President of Walker Sands. "Our tech community doesn't meet together often enough, so we're excited to host this social to see all of the brightest technology minds in Chicago gather under one roof and recognize the LAUNCH participants."
Techweek Chicago 2013 will be held June 27-29 at the Merchandise Mart, 222 W. Merchandise Mart Plaza. Speakers include executives from Motorola, Coyote Logistics and CareerBuilder, among others.
Techweek, also held in New York City and Los Angeles, brings together entrepreneurs, tech visionaries, investors and thought leaders from around the world to promote and enable technology innovation.
Registration for the social is free, but space is limited. Reserve your spot at walkersands.eventbrite.com with password "TWsocial."
About Walker Sands:
Walker Sands Communications is a full-service marketing and public relations firm offering service to B2B and technology companies ranging from startup to enterprise-level. With offices in Chicago and San Francisco, Walker Sands was founded in 2001 to provide marketing and public relations support for a wide array of companies with the business mission of providing best-in-class communications counsel. In 2012, Walker Sands was named a PR News and Bulldog Reporter finalist for Small Agency of the Year. To learn more, visit http://www.walkersands.com.