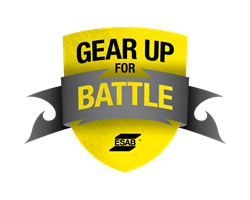 Florence, SC (PRWEB) June 04, 2013
ESAB Welding & Cutting Products introduces the "Gear Up for Battle" promotion for its new Warrior line of high performance, multi-purpose welding equipment. Purchase any Warrior ready-to-weld package and choose your bonus – a $500 manufacturer rebate or a $1,000 ESAB shopping spree. This offer is valid for any qualified purchase of Warrior 500i package made from June 1 through December 31, 2013.
The $1,000 ESAB shopping spree offers a selection of high quality ESAB merchandise, including PowerCut® 400 plasma cutting package, MiniArc® 161 LTS Tig/Stick Package, PUROX® Elite Metal Master III gas apparatus, ESAB Personal Protection Equipment (PPE), Tool Bag, and more. Choose the reward items that provide the most value for your application requirements.
"Our Warrior product was designed by welders for welders," said Sue Bartholomew, Director of Global MARCOM for ESAB North America. "This unique offer extends our commitment to providing welders the tools they need to get the job done with a bonus rebate or a choice of items from more than 20 welding products and accessories."
ESAB's Warrior ready-to-weld package is a multi-process power source and feeder for general fabrication, shipbuilding, rail car construction, mobile machinery construction, energy generation construction, pipe welding, and repair and maintenance. Designed for MIG, Flux-Cored, Stick, and Live TIG welding, as well as Arc Gouging, Warrior delivers up to 500 amps at 60% duty cycle.
With innovative ESAB technology and industry-leading productivity enhancements, Warrior was designed with input from welders and built for rugged performance and high reliability.
For complete details about the "Gear Up for Battle" promotion, including order form and a list of merchandise offered, go to http://www.esabna.com/gearup, email promotions[at]esab[dot]com, or call 843-664-5572.
ESAB Welding & Cutting Products is a recognized leader in the welding and cutting industry. From time-honored processes in welding and cutting to revolutionary technologies in mechanized cutting and automation, ESAB's welding consumables, equipment, and accessories bring solutions to customers around the globe. For more information, visit http://www.esabna.com or call 1-800-ESAB123.