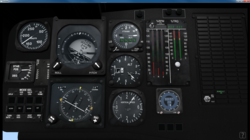 We believe that the technology integration between Havok Vision Engine and GL Studio powered by Lumen will really help enhance realism for cockpit and instrumentation content for simulation and training applications
(PRWEB) June 05, 2013
The DiSTI Corporation, a leading provider of advanced high fidelity human machine interfaces, announces the release of Lumen, GL Studio's new runtime engine. Now available for download, GL Studio powered by Lumen provides enhanced development features and increased capabilities that are in demand by today's software UI developers.
Officially unveiled at I/ITSEC 2012, the Lumen runtime engine is DiSTI's latest advancement in human machine interface development technology, allowing GL Studio users to expand their platform reach and interface functionality. Among the set of new features, Lumen allows GL Studio users to integrate their graphical content with DirectX based scene generators, thus opening up deployment options beyond the standard OpenGL landscape.
In addition to DirectX, the new Lumen runtime delivers the capabilities required to meet the needs of today's software UI developers. Its enhancements for greater object animation control, advanced text capabilities, higher fidelity for rendering 3D models, and support for new graphics card features, allow developers to create interface content that replicates real world devices closer than ever before.
"We believe that the technology integration between Havok Vision Engine and GL Studio powered by Lumen will really help enhance realism for cockpit and instrumentation content for simulation and training applications," said Cory Kumm, Worldwide Director of Military & Simulation. "We look forward to seeing how customers make use of our combined capabilities."
For more information on Lumen, or to request a trial download of GL Studio with Lumen, please visit http://www.disti.com/Lumen.
About DiSTI
DiSTI is a global leader in the development of Human Machine Interface software for businesses, governments and the military. The company's flagship product, GL Studio, enables programmers and developers to build high-fidelity graphics, 3D simulations and fully interactive controls into their models, enhancing the level of realism and sophistication, while improving learning and retention.
More than 500 customers worldwide, including BAE, Boeing, Dassault, FedEx, Lockheed Martin, Honeywell, Raytheon and Thales, use DiSTI solutions to build maintenance trainers, create PC and Internet-based courseware and to develop components for safety-critical applications. As a full service provider, DiSTI offers a complement of customer programming and development services, and is the recognized leader in training solutions for the global simulation and training community. For more information, visit http://www.disti.com.