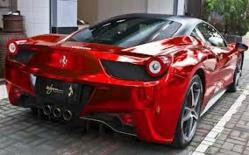 Nanotechnology let's the rain wash your car!
(PRWEB) June 06, 2013
99 out of 100 dads agree -- they like to drive around in a show room shiny car but how do you keep that shine everyday? Nano Technology car care products appear to be where people are gravitating to for that shiny, clean car look.
What is Nano Technology? This new technology is the science of manipulating materials on a very, very, very small level.
WOW! Finish is a nanotechnology based product, with tiny nano-sized ploymeric particles that penetrate four times deeper on a surface than the traditional polishes and waxes.
The idea of Nanotech WOW! is to seal and penetrate the surface offering better protection and easier maintenance. Its environmentally friendly attributes are water based and contains no solvents, PTFE, silicone, petroleum distillates, oils or waxes.
Nanotech WOW! Finish for cars was previously available only to pros and the commercial industry but is now available to consumers through Helmar Distributors, an internet company who specializes only in nanotechnology waxes.
Tim Banker of Cape Code, Massachusetts exclaims, "WOW!" is right! I've never spent so little time to get such a deep, long lasting shine on my car." Jacob Underwood of Milwaukee, Wisconsin marvels, "The finish lasts three to four times longer than conventional waxes. The longer it stays on my car the more it penetrates and protects."
"I use WOW! on the (car's) console, inside door panels, vinyl seat backs and windows -- now when I clean up, it takes no time." says Leslie a working mother from Keller, Texas.
WOW! Finish is available in a handy 16 oz bottle with a trigger spray for $20.00. There is also a sample pack available for $10.00 which includes a 3 oz bottle of WOW! Finish, a 3oz bottle of Nano-Primer plus a Micro-Fiber Polishing Cloth. The Nano-primer is best used on porous surfaces.
To learn more about Nanotech WOW! products go to http://www.wowforcars.com.
Use WOW! on your boat too!