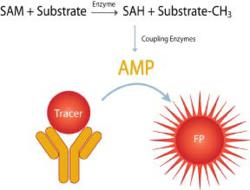 Combining the Transcreener EPIGEN Methyltransferase Assay with Reaction Biology's purified enzymes and optimal substrates provides a complete solution for HMT screening and profiling.
Madison, WI (PRWEB) June 06, 2013
Methyltransferases are key players in epigenetic control of gene expression and have become the targets of intensive public and private drug discovery efforts. Unfortunately, the first step in developing epigenetic drugs – identification of specific inhibitors for target enzymes – has been plagued by problems in getting methyltransferase enzymes to function correctly in the HTS assays used to detect their activity. To eliminate this hurdle, BellBrook Labs and Reaction Biology partnered last year to develop the Transzyme Methyltransferase Assay kits as complete solutions for inhibitor screening and profiling with purified methyltransferases enzymes. With the addition of HMTs GLP, G9a/GLP, PRMT4 (CARM1) and PRMT8, the expanding line of Transzyme Methyltransferase Assays now numbers twelve, including DOT1L, G9a, MLL4, PRMT1, PRMT3 SET7/9, SET8, SUVH391 and DNMT1.
The Transzyme kits overcome the methyltransferase assay problems by combining all of the required methyltransferase enzyme reaction components and BellBrook's Transcreener detection reagents into well-defined kits that are pre-calibrated to produce HTS-quality data. By eliminating the need for sourcing and testing of reagents from different vendors and trouble-shooting to optimize assay performance, the new Transzyme kits should accelerate the pursuit of promising epigenetic therapeutic strategies for cancer and other diseases.
About BellBrook Labs
BellBrook Labs is dedicated to accelerating drug discovery and biological research by providing innovative high throughput screening solutions for enzymes and phenotypic assays. The company's Transcreener® HTS enzyme assays, used by all of the major pharmaceutical companies, make it easy to screen thousands of different enzymes, including validated targets like kinases, as well as emerging targets likeATPases, GTPases, methyltransferases, and glycosyltransferases. The iuvo™ Microconduit Array technologyand assay screening service are based on a line of unique microscale devices for miniaturization and automationof advanced cell models that are more representative of human physiology.
About Reaction Biology
Reaction Biology Corporation ("RBC") is a premier provider of in vitro enzyme activity assays for HTS and profiling. Serving over 200 customers worldwide, RBC specializes in optimizing nanoliter scale assaying methods, allowing for high quality data with fast turnaround and economical pricing. RBC offers gold-standard radioisotope based assays in the Kinase, Methyltransferase, and HAT enzyme classes, as well as a full suite of HDAC/SIRT assays. RBC also now provides an expanding line of active, human recombinant HMTs, including some exclusive complexes. Compound libraries, custom assay development, discovery partnerships and cell-based assays are also part of RBC's portfolio of services. Visit RBC's website for more information: http://www.reactionbiology.com