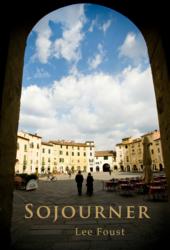 Words as much for the ear as for the mind.
San Francisco, California (PRWEB) June 06, 2013
American-born novelist, poet, and performer Lee Foust returns to the West Coast this summer to undertake a tour of readings and performances to promote his new book, Sojourner, a collection of stories and poems centered upon the theme of place. Foust, who grew up in the East Bay hamlet of Walnut Creek, earned a degree in Creative Writing at Cal State San Francisco and worked in local bookstores before leaving California, first to study abroad in Florence, Italy, and then to earn a Ph.D. at New York University. He has now lived and taught both Literature and Creative Writing courses in Florence for some sixteen years at various American institutions, including both the Cal State program and New York University's Villa La Pietra.
Foust's recent book, Sojourner, a collection of short stories, verse, prose poems, and flash fictions, engages the mystery of our experience of place. The texts confront both our sense of belonging, as well as our frequent desire to escape into unknown territories; familiar and foreign cities, people, and languages through imagination, travel and long-term residence. The nomadic tales and poems in Sojourner chart the topography of San Francisco and New York City as well as exploring such unlikely spots as Lubbock, TX, Poznan, Poland, Helsinki, Florence, and Assisi In these journey's Foust's characters find and abandon love, themselves, and each other in homes, flats, tenements, and squats—even on park benches.
Fellow aural poet and blogger on the topic, Michael Myshack (AKA Swampmessiah), claims in Poetry and Other Sounds that the texts in Sojourner "are as much for the ear as for the mind." And Lee himself is excited to return home, new book in hand, to wow old friends, family, and former students with his dynamic performance style. He performs a cappella, beating on a drum, or with recorded backdrops of his own creation. He has honed his style over the years since he last graced San Francisco stages with his band Nominal State (anthologized last year in Dark Entries records' Bay Area Retrograde LP) on the New York spoken word scene as well as in his new Italian home where he has performed with the Chille della Balanza theatre company, and read in nightclubs and at various universities in both Florence and Rome.
The West Coast tour kicks off at Green Apple Books in San Francisco on June 11th. "It seemed like the perfect place to begin," says Foust, "not only is it one of San Francisco's best bookstores, but I'm pretty familiar with the place since I once worked there." Photographer, Debra A. Zeller, who took the photos and designed the cover of Sojourner, also worked there. "That's where we met, actually," says Foust. "The shop is even mentioned in the book, but it's really Debra's story—she was working in the office upstairs during the earthquake in '89 and was practically buried alive under the books when the walls started shaking. What a way to go!"
Foust will also headline Frank Andrick's WTF reading series at Luna's Café in Sacramento on Aug 11. Check out the Events page on the official Sojourner website for further updates, or "like" Lee's musician facebook page to keep up with all of his literary activities.