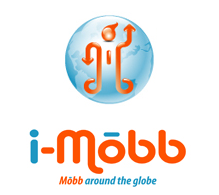 Cost of few minutes with their carrier equals 1 week of unlimited inbound and outbound calls with i-Mobb.
New York, NY (PRWEB) June 04, 2013
i-Mobb, the Free Roaming App for Android and iPhone, is partnering with ourtravelinsurance.co.uk, a major Insurance company in the UK that provides travelers with travel insurances. Full details about the new collaboration are available on i-Mobb's website at http://www.i-Mobb.com.
"We're proud to be at the forefront of travel communications in the digital age. We designed i-Mobb to help our users save money and stay in contact during international trips. Now, we've partnered with Ourtravelinsurance.co.uk, a company that provides travelers from the UK with travel insurances, to make their trip safer, cheaper and keeping in touch even easier," said Bernard Drai, CEO of the no roaming app company.
i-Mobb utilizes advanced VoIP technology to allow subscribers to easily connect with their friends and colleagues. Thanks to the app's innovative technology, staying in touch while abroad is as easy and cheap as it is at home. Calls received or placed through the application are transmitted over wireless Internet rather than cellular networks to prevent any roaming charges, allowing users to keep in contact with their family and friends at vastly reduced rates and no cost in reception.
For the duration of their i-Mobb subscriptions, users are provided with a new phone number that's local to their destination. Call forwarding to the new number is available for any and all calls received at the user's home or business phone, and i-Mobb also provides subscribers with an international voicemail that will intercept any calls they receive while they are without a Wi-Fi or Data connection. Users can monitor their accounts through the app's intuitive interface, which offers a wide range of features, including the ability to organize contacts into personal and professional lists.
Travelers who wish to take advantage of i-Mobb's unique services can choose to subscribe to the app for as little as one week at a time with the app's flexible plans. After a trip ends, users can renew their subscriptions as needed to cover subsequent journeys.
People may check on i-Mobb web site how the cost of few minutes with their carrier equals 1 week of unlimited inbound and outbound calls with i-Mobb.
i-Mobb is currently available for travelers who reside in eight countries, including the United States, United Kingdom, Canada, France, Germany, Canada, Netherlands and Japan, and the no roaming app company has plans to introduce access in 30 new countries in the next month.
i-Mobb, the No Roaming App for Android and iPhone is also available for resale by travel agents and others in the industry. The app's online home, http://www.i-Mobb.com, has important details and information for both customers and resellers.
To find out more about i-Mobb or to apply to become a reseller for the travel cell phone app, visit http://www.i-Mobb.com. The company also maintains active social media profiles on Facebook at http://www.facebook.com/IMobbtheGlobe and on Twitter at http://twitter.com/@IMobbtheGlobe.