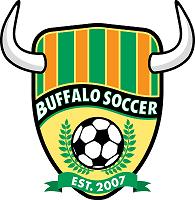 "We're very excited to host an event where our clubs can play side-by-side. And we're honored to name this event after a man who helped both clubs offer the opportunity for hundreds of children to play throughout the year
Buffalo, NY (PRWEB) June 05, 2013
The Buffalo Soccer Club was founded by Stephen M. Kiernan I in 2007 with hopes to provide a safe haven to children living in the City of Buffalo. The club offers children, ages 4-14, the opportunity to enhance their lives through sports and educational experiences, utilizing sports as a platform to encourage youth and family development in a safe environment by focusing on healthy life choices, the development of athletic identity, and positive behavior changes--specifically an increase in self-discipline, personal responsibility, and respect for self and others.
Since 2007, hundreds of children have been able to participate in the Buffalo Soccer Club as a result of Steve's drive to make difference in children's lives. Steve, former CEO of Algonquin Studios, fought for funding to support the club. He often paid for necessities out of his own pocket to keep the club alive. Steve also was exceedingly generous to the Hamburg Monarchs Soccer Club and, with a desire to honor the man who made so much possible, leadership from the two clubs have joined forces to establish a soccer festival in his memory.
The 2013 Kiernan Soccer Festival is planned as a house league soccer festival in which each 2013 Outdoor House League Recreational team will have the opportunity to play multiple games. Each club will have the opportunity to play against one another and teams will also participate in games against other teams within their own club. The festival is designed around the spirit of the game, teamwork and sportsmanship, allowing the players to perform to the best of their ability.
Kris Eckert, Director of Coaching for the Hamburg Monarchs, shares her enthusiasm for the event, "We're very excited to host an event where the Hamburg Monarchs and Buffalo Soccer Club can play side-by-side. And we're honored to name this event after a man who helped both clubs offer the opportunity for hundreds of children to play throughout the year!"
The event will take place June 22nd, 2013, from 9am-3pm at the Hamburg Nike Base in Hamburg, NY. A barbecue dinner from BW Smokin' Barrels will also be held that day, with proceeds benefiting the Buffalo Soccer Club.
About Buffalo Soccer Club: Buffalo Soccer Club (BSC) launched in 2007 and is the pilot program for Algonquin Sports For Kids, a nonprofit organization founded by Algonquin Studios. BSC features sports oriented after school activities, house soccer leagues and travel soccer leads. Its mission is to provide a safe environment to foster youth and family development through healthy choices, athleticism, self-discipline, responsibility and respect.
About Hamburg Monarchs Soccer Club: Hamburg Monarchs Soccer Club is a full service soccer organization committed to player development and enrichment. They strive to instill individual confidence in a team environment. Goals are attained through hard work, sacrifice and absolute dedication. The house league with in the Hamburg Monarch Soccer Club allows for players to master a solid soccer foundation and provide an enjoyable experience while promoting sportsmanship and respect to all involved.
About Algonquin Studios: Algonquin Studios is a professional services firm providing world-class software development, business and technology consulting, and web design and web content management systems, and since 1998. Algonquin Studios provides expert business solutions for organizations in many industries including health care, legal, financial, and not-for-profit.