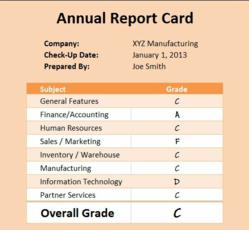 Our ERP evaluation template helps businesses to understand how well the ERP system is meeting their needs and identifies areas that could be improved
(PRWEB) June 05, 2013
Today, e2b enterprise, a division of e2b teknologies Inc, announces the availability of a free ERP evaluation template to help companies assess their current ERP system. The ERP evaluation template is an easy to use, interactive document that walks users through a list of simple questions for major areas of their ERP system and grades it based on eight different categories.
"Companies make significant investments in their ERP business systems," said e2b teknologies Director of Marketing James Mallory. "They implement them with hopes of improving their businesses and their bottom lines. But key employees leave, business requirements change, and the ERP systems themselves evolve. Our ERP evaluation template helps businesses to understand how well the ERP system is meeting their needs and identifies areas that could be improved through possible upgrades, implementation of additional modules or third party applications, or custom software development."
The ERP evaluation template grades the system in eight different categories including, general features, finance and accounting, human resources, sales and marketing, inventory and warehouse management, manufacturing, information technology, and partner services. Responses to questions are weighted against the company's defined need for a particular feature resulting in a grade for each category and an overall grade for the entire ERP system.
"Statistics show that most companies only use a fraction of the features available in their ERP system and very few companies ever go back and assess what's available as new versions are released and as their business changes over time," Mallory said. "We get calls all the time from companies looking for new ERP software but in many cases they already have the right applications in place – they simply need to upgrade, buy some more modules, or implement what they already own. In other cases – they will quickly see that their current system simply isn't right for their business and they should consider changing to ERP software that is a better fit for their industry needs or more appropriate for the size of their organization."
The free ERP evaluation template can be downloaded here. An example of the ERP evaluation template results can be viewed online.
About e2b teknologies
e2b teknologies (e2btek.com) provides cloud-based business software applications and business services to progressive businesses worldwide. e2b anytime apps (e2banytime.com) is the publisher of Anytime Supply Chain, Anytime Commerce, Anytime Collect, and related Anytime brand products. e2b enterprise (e2benterprise.com) develops custom cloud-based business applications and resells leading ERP accounting software, CRM, HRMS, and other enterprise business software applications from Sage Software, Epicor, Intacct, SugarCRM, and other publishers. e2b calibration (e2bcal.com) is an ISO/IEC 17025 accredited calibration laboratory.