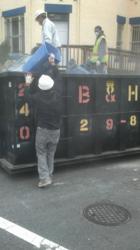 Making Money at home is always a plus.
Washington, DC (PRWEB) June 10, 2013
As summer approaches, many college students are leaving behind their apartments and dorms to move on to bigger and better things.
Still, many tenants leave their items behind and forget that "cleaning out the place" really does mean disposing of all their trash. It certainly would help if property owners provided accessible dumpster to tenants to make move-out a breeze.
Every few months it's a good idea to plan recycling/waste collection days. If your properties are in the same location, schedule periodic waste collection days, especially if there's a time when many tenants are moving out. Renting a roll-off dumpster and advertising these events to tenants will make it more likely that they get rid of all their trash without leaving anything behind.
Most dumpster companies let consumers rent a dumpster for a few days or weeks, meaning they can leave them out until the last tenant leaves the premises, a message from B&H Roll-Offs dumpsters