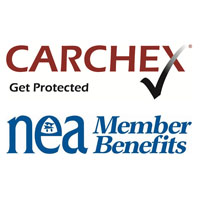 CARCHEX's products and expertise will benefit our members by helping them optimize vehicle protection and performance.
Gaithersburg and Baltimore, Maryland (PRWEB) June 05, 2013
CARCHEX, a leading provider of Extended Vehicle Protection Plans, and the National Education Association's (NEA) Member Benefits Corporation, a national provider of programs and services designed to enhance the lives of America's educators and their families, today announced an exclusive extended auto warranty relationship to benefit NEA members.
According to the agreement, CARCHEX will provide personalized extended auto warranty offerings to NEA members including teachers, faculty members, education support professionals, retired educators, and students preparing to become teachers in America's public schools. Members may also benefit from roadside assistance from CARCHEX, a company with more than a decade of experience providing Extended Vehicle Protection Plans directly to consumers.
"As more and more public school districts experience budget cuts, this agreement demonstrates NEA's commitment to help educators maximize their hard-earned dollars by providing valuable, competitive products and services to members," said Gary Phoebus, President and CEO of NEA Member Benefits. "CARCHEX offers strong direct-to-member capabilities. Their products and expertise will benefit our members by helping them optimize vehicle protection and performance."
With the partnership in place, CARCHEX will offer Extended Vehicle Protection Plans to all NEA members.
"This partnership is great for CARCHEX because it allows us to leverage our company's unique capabilities and industry experience to help NEA Member Benefits reach a shared goal--to provide best-in-class programs and services," said Jason Goldsmith, CARCHEX chief executive officer. "CARCHEX is committed to offering the best products, pricing, and providing the best service, and we are honored to have this opportunity to do so for America's educators."
NEA Members can find out more and receive their free no obligation quote by visiting http://www.neamb.com/vpp.
About CARCHEX
Headquartered in Hunt Valley, Md., CARCHEX is the premier provider of
Extended Vehicle Protection and Mobile Vehicle Inspections. As the preferred partner to the most trusted names in the automotive industry, including Pat Goss of TV's MotorWeek, Carfax and Kelley Blue Book, CARCHEX provides customized coverage plans to consumers allowing them to get the highest level of protection for their vehicles at the most competitive prices. Over a decade long commitment to protecting automotive consumers and providing exceptional customer service has translated into an A+ Rating with the Better Business Bureau. To learn more about CARCHEX and to Get Protected, visit: http://www.CARCHEX.com
About NEA Member Benefits
The National Education Association (NEA) is the nation's largest professional employee organization, representing 3 million elementary and secondary teachers, higher education faculty, education support professionals, school administrators, retired educators and students preparing to become teachers. NEA's Member Benefits Corporation (NEA MB), headquartered in Gaithersburg, Md., - is a wholly-owned subsidiary of the NEA charged with bringing additional value to Association membership by providing financial and professional products and solutions tailored for NEA members and their families. For more information visit: http://www.neamb.com.