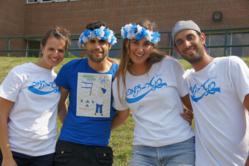 New York, NY (PRWEB) June 04, 2013
Signaling that summer is almost here, more than 1,200 Israeli young adults will arrive in North America over the next few weeks to serve as Jewish Agency emissaries at day and overnight camps throughout the continent.
This year, the number of summer Shlichim (emissaries) in North America is up by more than 150 from last year. These Shlichim will work at more than 200 camps in 150 communities in 35 states and provinces, including large delegations at camps serving New York, Washington, D.C., Philadelphia, Chicago, Los Angeles, San Francisco and Atlanta.
Summer Shlichim are hand-picked, experienced Israeli youth leaders who have served in the Israel Defense Forces (IDF) or National Service, and come to North America to share their excitement about Jewish life in Israel. At camp, these emissaries will work as counselors, teachers, nature guides, theater directors, dance instructors, cooking instructors, arts and crafts teachers, song leaders and athletic coaches. Throughout the summer, these Agency emissaries also educate North American youth about modern Israeli culture and form a connection with campers and fellow staff that often leads to lifelong friendships and a strengthening of the global Jewish family.
Camp is often the first time young North American Jews learn about modern-day Israel and have the opportunity to connect with Israelis first-hand. While campers benefit from learning about life in the Jewish state, the Israeli summer Shlichim get to learn about Jewish life and values in North America, as well. As in previous years, more than 150 day camp Shlichim will each live with an average of three host families over the course of the summer.
According to Ariella Feldman, The Jewish Agency's director for North America Shlichim Initiatives, this year more than 500 families volunteered to host summer Shlichim. The host family program adds a layer of depth and authenticity to the Israel counselor-Diaspora camper experience and is one of The Jewish Agency's most successful initiatives to connect Diaspora and Israeli Jews.
"The host family experience offers both the host family and the Shaliach (emissary) a more intimate and personal connection," Feldman said. "The Shlichim get an opportunity to see what life is really like in a North American Jewish home. They live together, eat together, talk and share ideas. The Shaliach sees what day-to-day life is like for the family—what interests them, what concerns them, what they do for fun, and how they live their lives. The North American family gets to know an Israeli up close. They talk about their similarities and differences, and get to form a relationship that often connects them for life."