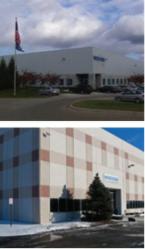 (PRWEB) June 04, 2013
Hackman Capital Partners, LLC, a privately-held, asset-based investment firm, and Oak Pass Capital Management, both headquartered in Los Angeles, confirmed this week the successful acquisition of two, institutional-quality facilities in Livonia, Michigan, a western suburb of Detroit. The industrial properties total a combined 285,306 square feet and were acquired through Auction.com from LNR, the special servicer, at a discount to their 2005 value. The buildings, located at 38220 and 38150 Plymouth Road, are both 100% occupied.
"We are thrilled with the acquisition and excited to establish a presence in Metro Detroit," said Michael Hackman, Founder and Chief Executive Officer of Hackman Capital Partners. "The properties are first rate with two, stable, long-term tenants—and Livonia, home to several large businesses and employers including Ford, General Motors, Comerica and TRW Automotive, is well positioned for continued growth and increasing demand from distribution users."
According to Hackman, the Plymouth Road properties are optimal for distribution with easy highway accessibility from I-275 and I-96 and modern, high-cube design and construction. Distribution tenants Helm, a leading provider of branded merchandise, fulfillment and e-commerce turnkey solutions and McKesson, a healthcare services and information technology company, occupy the facilities.
Hackman Capital Partners, through its affiliated entities, currently owns more than 100 facilities throughout the U.S., totaling 18 million square feet.
Charles Toppino, President of Oak Pass Capital, noted that "the Livonia market is in full recovery which was part of the appeal of this acquisition. We have a positive track record of identifying attractive industrial real estate opportunities in the Midwest and joint venturing with Hackman Capital Partners. The investment also has many attractive attributes including two high quality tenants that are ideally located to execute their business plan, and a strong JV asset management team."
Both Livonia assets will be managed out of Hackman Capital's Columbus office, which oversees Hackman Capital's operations in the Midwest, Southeast and Mid-Atlantic regions. The Columbus team currently manages properties totaling approximately 5.4 million square feet in Ohio, Kentucky, West Virginia, Virginia and Michigan, including the 1.6-million-square-foot Midlink Business Park in Kalamazoo.
More about Hackman Capital
Founded in 1986 and headquartered in Los Angeles, Hackman Capital is a privately held, asset-based investment firm that focuses on the acquisition of industrial real estate and the purchase and sale of industrial equipment. The firm currently owns, through its affiliated entities, 100 facilities throughout the United States, totaling approximately 18 million square feet and more than 20,000 acres of developable land. Hackman Capital also has conducted hundreds of equipment acquisitions, dispositions, and liquidations on four continents. With more than 27 years of experience in acquisition, redevelopment, and asset management, Hackman Capital is known across marketplaces for its ability to successfully navigate complex transactions and financial restructurings involving real estate and equipment. The company is based in Los Angeles and manages its Midwest, Mid-Atlantic and Southeast operations, from its Columbus, Ohio office.
For more information, visit http://www.hackmancapital.com.
More about Oak Pass Capital
Oak Pass Capital (OPC) is a privately held real estate investment firm headquartered in Los Angeles formed for the purpose of strategically acquiring and managing commercial real estate assets throughout the country. OPC invests in attractive real estate opportunities in partnerships with experienced owners, operators and capital partners. The firm was founded in January 2011 by Charles Toppino and a team of real estate professionals formerly of Square Mile Capital Management (SMC). Mr. Toppino has over 25 years of experience in commercial real estate including founding with his partners of Secured Capital Corp. in 1990 which subsequently merged with Eastdil to form Eastdil Secured, a dominant U.S. real estate investment bank. OPC is vertically integrated to identify, acquire, finance, and asset manage commercial real estate equity and debt.
For more information, visit http://www.oakpasscapital.com