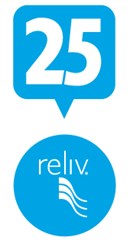 CHESTERFIELD, MO (PRWEB) June 06, 2013
Reliv International, Inc. (NASDAQ:RELV), a maker of nutritional supplements that promote optimal health, today announced that its Board of Directors has appointed Steve Hastings to the position of Executive Vice President of Sales & Marketing and Brett Hastings to the position of Senior Vice President and Chief Operating Officer. Steve Hastings had been serving as Reliv's Senior Vice President of North American Sales, while Brett functioned as Reliv's Vice President of Legal.
In his new position, Steve Hastings will oversee sales development and marketing outreach for Reliv International, with a primary focus on US and Canada.
"Steve has been with Reliv for more than 20 years and has led some our most successful sales and marketing initiatives," said Reliv President Ryan Montgomery. "He will continue to develop strategies and spearhead innovative projects moving forward, working with field leaders to increase sales. I am confident his leadership will help drive growth in the years to come."
As COO, Brett Hastings will be responsible for the day-to-day operations at Reliv, including manufacturing, distributor services, IT, internal audit, purchasing and legal/compliance.
"Brett's work with legal has been exceptional, as has his work since assuming leadership of manufacturing in 2011," Montgomery said. "He increased operational efficiencies, oversaw the flawless integration of LunaRich® soy powder into our product line and directed the launch of two new products – LunaRich X™ and 24K™. I look forward to his building on this success."
About Reliv International, Inc.
Reliv International, based in Chesterfield, Mo., produces nutritional supplements that promote optimal nutrition along with premium skincare products. Reliv supplements address essential nutrition, weight loss, athletic performance, digestive health, women's health, anti-aging and healthy energy. Reliv is the exclusive provider of LunaRich® products, which optimize levels of lunasin, the peptide behind many of soy's health benefits. The company sells its products through an international network marketing system of independent distributors in 16 countries. Learn more about Reliv at http://www.reliv.com, or on Facebook, Twitter or YouTube.
Statements made in this news release that are not historical facts are "forward-looking" statements (as defined in the Private Securities Litigation Reform Act of 1995) that involve risks and uncertainties and are subject to change at any time. These forward-looking statements may include, but are not limited to, statements containing words such as "may," "should," "could," "would," "expect," "plan," "anticipate," "believe," "estimate," "predict," "potential," "continue" or similar expressions. Factors that could cause actual results to differ are identified in the public filings made by Reliv with the Securities and Exchange Commission. More information on factors that could affect Reliv's business and financial results are included in its public filings made with the Securities and Exchange Commission, including its Annual Report on Form 10-K and Quarterly Reports on Form 10-Q, copies of which are available on the Company's web site, http://www.reliv.com.