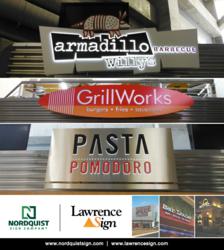 St. Paul, MN (PRWEB) June 05, 2013
Since 1904, Nordquist Sign has been a leading fabricator of custom sign solutions. Nordquist Sign recently collaborated with Jim Keppel of jkeppel. creative strategies. to fabricate and install new food and beverage signage for HP Pavilion located in San Jose, California, home of the NHL's San Jose Sharks hockey team.
"Nordquist Sign collaborated with Mr. Keppel on the implementation of a very detailed fabrication and installation process to successfully complete the custom signage project on schedule and within budget," commented Steve Hirtz, Senior Vice President of Sales at Nordquist Sign.
jkeppel. creative strategies. provided the creative concepts HP Pavilion required for the building's new food service signage. Nordquist Sign delivered the necessary fabrication management, product development, project management, design interpretation, and industrial process implementation needed to deliver a complete solution.
"Working at the arena is complex, and we have so many vendors that we need to manage and coordinate around a jam-packed event schedule," said Jim Keppel. "We are always able to count on Nordquist to deliver the goods, providing us with a professional and attractive final product."
The end result of the Nordquist Sign and jkeppel. creative strategies. collaboration included 10 unique dimensional concessionary sign installations at HP Pavilion in San Jose California. The client was pleased with all facets of the sign deliverables and Mr. Keppel continues to recommend Nordquist as a top-tier provider of architectural signage.
About Nordquist Sign & Lawrence Sign
Nordquist Sign has been fabricating and installing custom signage, architectural elements and wayfinding signage for over 100 years. Nordquist's customer base and scope of work include custom signage and environmental graphics for hospitals, sports facilities, themed entertainment, corporate/financial and mass transit. Nordquist Sign also maintains a gaming division with offices in Las Vegas, NV and St. Paul, MN to serve casino gaming markets throughout the United States.
In late 2011, Lawrence Sign, also in business since the early 1900's, acquired Nordquist to combine the unique resources and capabilities of the two companies. Together, Nordquist Sign and Lawrence Sign offer their clients over 175 years of experience in sign manufacturing and installation for all phases of the signage industry.
For more information:
(651) 488-6711 • (800) 998-8901 • http://www.nordquistsign.com • http://www.lawrencesign.com
info(at)nordquistsign(dot)com • info(at)lawrencesign(dot)com