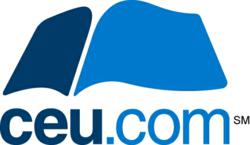 MALVERN, Pa. (PRWEB) June 05, 2013
CEU.com, a business unit of The Institutes, has launched a new website and continuing education (CE) tracking tool. CE Navigator is an efficient CE dashboard that enables insurance professionals to increase productivity, save time, identify and complete compliance training requirements, and reduce the risk of fines. The new website can be viewed online at http://www.CEU.com.
CE Navigator provides the following benefits:

Increased productivity. Users can log in anywhere with direct, real-time dashboard access.
Reduced costs for filing fees in multiple states. Drives lower cost because an adjuster pays
and takes the course once and it can be applied to multiple states.

Improved efficiency. Efficiency is greatly improved by automated processes.
Reduced risk of fines.
Tracks and automates compliance records and determines the CE gaps needed using
alerts and reminders.

Time savings. Simplified dashboard allows for quick, easy-to-use updates at-a-glance.
User-focused. Designed based on customer feedback.
Visit http://www.CEU.com to learn more about the new CE Navigator.
###
About CEU.com
CEU.com continues to be a leader in the insurance continuing education (CE) industry, offering more than 70 online courses through an engaging and user-friendly multimedia format to meet the varying CE requirements for insurance producers, brokers, and adjusters. CEU.com courses are approved for CE credit by insurance departments in all 50 states and the District of Columbia. CEU.com also offers CE courses for various designations.
CEU.com is a business unit of The Institutes, the leader in delivering proven knowledge solutions that drive powerful business results for the risk management and property-casualty insurance industry. The Institutes are affiliated with the CPCU Society and The Griffith Insurance Education Foundation.