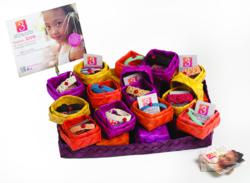 As the demand for 3Strands bracelets increases, so does our ability to rescue and employ more young women across the world. By working with Whole Foods, we are creating this increased demand! - Ken Petersen
Vacaville, CA (PRWEB) June 06, 2013
3Strands is excited to announce their partnership with Whole Foods Markets! These socially responsible companies are teaming up to fight human trafficking around the world by providing sustainable work for rescued victims of human trafficking. With every sale of a 3Strands handmade bracelet, money is raised to help empower, teach and employ young women who have been rescued from the evils of human trafficking. 50% of profits from 3Strands helps to support organizations like Agape International Mission (AIM), based in Cambodia, that help to rescue and restore these young victims. http://www.3StrandsGlobal.com
Ken Peterson, founder of 3Strands Global and owner of the Apricot Lane Boutique franchise, and his team couldn't be more excited about the new retail partnership.
"As the demand for these bracelets increases, so does our ability to rescue and employ more young women in Cambodia and across the world," said Petersen. "By working with Whole Foods, we are creating a higher demand for these bracelets and partnering with a strong pillar in the give-back community that wants to be there to help others! Together….we CAN make a difference and thanks to partners like Whole Foods we ARE changing lives," said Petersen.
With this new Whole Foods partnership, consumers looking for an eco-friendly brand, which gives back to others in need, can purchase 3Strands bracelets while doing their weekly grocery shopping. 3Strands bracelets are made from a wax-cotton cord that is dyed with eco-friendly chemicals and materials for treatment, processing, coloring and finishing, which makes these bracelets a great brand for Whole Foods to feature as they support natural and organic products. The woven bracelets each feature a signature metal closer with the words "Freedom, Love and Empowerment" symbolizing the true gift these young women receive when bracelets are purchased. Every bracelet displays one fragile, red seed from the pods of Sandalwood trees, native to Cambodia. The beauty of this glossy, recycled, scarlet seed represents the beauty in each of the women who have been freed and empowered with hope for the future.
The Agape Training Center (ATC) where these bracelets are created is a small jewelry and apparel training center is unlike any other in the world. Instead of factory life working 12 hour shifts in horrible conditions, the women attend ATC for eight (8) hours each day during which time they receive counseling and educational services as well as lunch, medical benefits and childcare. Salaries are 3–4 times higher than the pay at typical garment factories located in Cambodia. This community, where rehabilitation meets vocation, is built upon respect and compassion for one another in a family environment.
While AIM manages the Training Center and creates the unique, handmade jewelry and apparel designs, 3Strands purchases the products from ATC to market and distribute the products across the country through retail partners like Whole Foods. In addition, bracelets are sold via e-commerce http://www.3StrandsGlobal.com. 50% of profits from all sales helps to fund Agape International Mission.
For more information visit http://www.3StrandsGlobal.com or go to http://www.wholefoodsmarket.com to find the closest location. Photos available upon request.