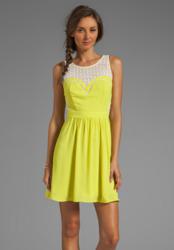 GREYLIN offers feminine silhouettes, abstract prints and a rich color palette.
Los Angeles, CA (PRWEB) June 06, 2013
REVOLVEclothing is excited to add contemporary women's line GREYLIN to their large selection of high-quality designer labels. Combining timeless everyday classics with bold patterns and colors, GREYLIN's latest eye-catching collection has found a home amongst other fashion-forward pieces offered at REVOLVEclothing.com.
Since launching GREYLIN in Spring 2010, creator, Dora Lim, has built a modern, yet classic line that's inspired by travel, interior design, and her native Brazil. The result is versatile fashion that the REVOLVEclothing woman can wear for all occasions.
This label fits that agenda perfectly, as described by REVOLVEclothing buyer, Cori French, "GREYLIN offers feminine silhouettes, abstract prints and a rich color palette. I love the versatility of the pieces which you can easily transform from day to night and wear season after season."
To get your hands on GREYLIN's sexy, coveted designs, shop REVOLVEclothing.com.
About REVOLVEclothing:
Launched in 2003, REVOLVEclothing.com has made an impact in the world of online fashion retail and solidified its place as a leading eCommerce site. REVOLVE's large selection of designer labels are offered with the highest quality of customer service, making the buying experience unparalleled. Men's and women's designer apparel, shoes and accessories include free shipping and returns, plus a 30 day price match guarantee. To shop REVOLVE visit REVOLVEclothing.com.
For more information or hi-resolution images, please contact Charina Scott at charina.scott(at)revolveclothing(dot)com.