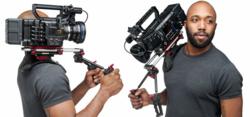 (PRWEB) June 05, 2013
The Sony F5 and F55 cameras are now shipping and Zacuto has the perfect accessories to customize rigs. Zacuto now offers a baseplate and rig for the Sony F5 & SonyF55 camera. The Sony F5/F55 baseplate was made to accommodate the rod to lens height on the Sony F5/F55 camera. The Recoil rig, also designed for the Sony F5/F55 cameras, was made for stability, comfort and ease.
"With the lens height of the Sony F5/F55 Baseplate, we could not use our trusty Universal Baseplate. However, we were able to start with the Universal Baseplate design and make a couple of changes to make a custom Sony F5 and F55 baseplate," says Mandy Rogers, VP of Sales & Marketing. "This baseplate is made specifically for these cameras."
By starting with the Sony F5/F55 Baseplate, it gives a platform to mount accessories such as a follow focus and/or matte box. To utilize the baseplate, simply attach it to the camera with a ¼ 20 and 3/8 16 screw and for standard tripod mounting, there are ¼ 20 and 3/8 16 screw holes underneath the plate.
The Sony F5/F55 Recoil Rig includes the Zacuto Sony F5/F55 Baseplate, the QR Shoulder Pad and the double handgrips, Zgrips V3. The QR shoulder pad is a curved shoulder pad system that includes the shoulder pad itself and a separate dovetail plate that screws into the bottom of the baseplate.
The QR shoulder pad positions the camera directly on top of one's shoulder eliminating the need for counter balance weight and it makes a shorter more compact rig. To detach the QR Shoulder Pad from the rig, just flip the quick release lever. The QR shoulder pad also has sliding ability for finding the center of gravity. The 12" rods from the baseplate can be extended to hold additional accessories at the front or back of the kit.
Learn more about the Sony F5/F55 rigs and accessories here, http://store.zacuto.com/sony-f5/f55/.
About Zacuto
Zacuto, located in Chicago, Illinois, is known for their "Made in the USA" brand of high quality, originally designed camera accessories. Their camera rentalhouse division builds custom camera packages and delivers nationwide. Zacuto Films produces original programming with EMMY's won in 2010, 2011 & 2012 (Midwest region) http://www.zacuto.com or follow @Zacuto on Twitter.