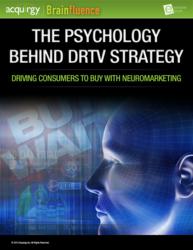 I've always considered DRTV an ongoing psychology experiment, where only ideas that work in the real world survive.
St. Petersburg, FL (PRWEB) June 06, 2013
Acquirgy and noted neuromarketing expert and "Brainfluence" author Roger Dooley announce the publication of a new complimentary eBook, "The Psychology Behind DRTV Strategy" that explores what goes into crafting a successful infomercial or short-form TV commercial. There is a great deal of science behind the words and graphics used in DRTV productions, the offers made, and the appeals used. Sections include:

The Magic Behind the Words
Anchoring, Pricing and Pain
Social Proof and Testimonials
Storytelling
What We Can Learn From Magicians
Bundling
Mirror Neurons
Scarcity and Declining Availability
Numbers vs. Percentages
Buzzwords That Motivate Consumers
Adjectives: When to Use Them
Building Consumer Confidence
The Agency Perspective
Conclusion
Co-author Dooley recently said, "Contributing to a book about direct response TV is truly exciting. I've always considered DRTV an ongoing psychology experiment, where only ideas that work in the real world survive. Marketers of all kinds can learn from watching successful infomercials."
Adds Irv Brechner, EVP of Corporate Communications of acquirgy, and co-author, "Based on what we know from 30+ years DRTV experience, which is the basis for this eBook along with Roger's neuromarketing POV, we know that every single word counts, which is why we spend so much time strategizing and tweaking copy used in DRTV productions."
This ebook can be obtained here: http://PSY1.acquirgy.net
About Roger Dooley, Brainfluence Author
Roger Dooley is an author, speaker, and consultant. His recent book is Brainfluence: 100 Ways to Persuade and Convince Consumers with Neuromarketing (Wiley), and he writes the popular blog Neuromarketing as well as Brainy Marketing in the Forbes.com CMO Network. He is the founder of Dooley Direct, a marketing consultancy, and co-founded College Confidential, the leading college-bound website. The latter business was acquired by Hobsons, a unit of UK-based DMGT, where Dooley served as VP Digital Marketing and continues in a consulting role.
Dooley spent years in direct marketing as the co-founder of a successful catalog firm and was director of corporate planning for a Fortune 1000 company. He has an engineering degree from Carnegie Mellon University and an MBA from the University of Tennessee.
About Acquirgy
Acquirgy (http://www.acquirgy.com) is an Acquisition Marketing Agency developing and executing accountable marketing programs driven by immediate and measurable response metrics across all digital and traditional platforms. Proprietary tracking systems integrate all transactional media, logistic and response data from all platforms to optimize client profitability. Acquirgy's CustomerAcquisition IntelCenter (http://www.acquirgy.com/intel) offers 100+ papers, briefs, ebooks and more on proven best-practices tactics and strategies.