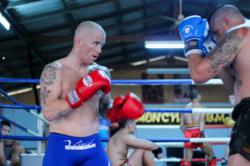 "Our intro Muay Thai classes will focus on teaching high-level technique in a safe, friendly atmosphere." - Jon Delbrugge
Owings Mills, MD (PRWEB) June 09, 2013
Owings Mills martial arts school Crazy 88, opening August 1, is excited to announce another high-quality program at its new facility: its Muay Thai Kickboxing program.
Known as the "art of eight limbs," Muay Thai is a form of striking from Thailand. It is known for being powerful for self defense, exciting to study and a great workout for those looking to get into great shape.
"Our Muay Thai program at Crazy 88 Owings Mills is geared toward the pure beginner, allowing a person with no experience in the art to practice it safely and learn true technique," explains Julius Park, who founded Crazy 88's original Elkridge location in 2005. "Whether you want to study muay thai for self defense, fitness, or to become a professional competitor, you will be well taken care of in our classes.
The most popular form of kickboxing in mixed martial arts events such as the Ultimate Fighting Championship, Muay Thai includes strikes with legs, fists, elbows and knees. It includes many techniques that are excluded from other striking arts, and so is a particularly effective style for self defense and competition.
Owings Mills Muay Thai program will be spearheaded by professional mixed martial artist Jon Delbrugge, who has been training the art for three years, and recently visited Thailand to train at Sitmonchai Gym in Thamaka, Thailand.
Students from sister school Crazy 88 in Elkridge have been competing in a variety of competitions from local smoker fights to amateur cards in NYC. Instructor Jon Delbrugge makes sure to point out that although the program does produce fighters, the classes are intended for everyone.
"Our intro Muay Thai classes will focus on teaching high-level technique in a safe, friendly atmosphere," Delbrugge explains. "Then, for students who want to take their training to the next level, there will be opportunities to spar, compete, and study in more advanced classes."
It's important to look carefully when searching for a muay thai program, Delbrugge adds. Many schools dress up cardio kickboxing classes with fancy equipment but lack the solid technical foundation a beginner needs. At the other extreme, there are schools where students are thrown into sparring sessions during their first class, though they are unprepared.
"Our professional staff, clean facility and great class environment will guarantee that you will have fun, get a great workout and learn solid technique," he says.
If you're interested in Crazy 88's 30 day free trial for kids or adults No Gi grappling, Brazilian Jiu-Jitsu, Muay Thai Kickboxing or Mixed Martial Arts in the Owings Mills area, please call 443-283-1450 or visit http://owingsmills.crazy88bjj.com.