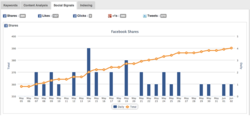 "GinzaMetrics provides us with important insights and recommendations to help us reach even more new customers." Anthony Thomas, StickerMule GM
San Francisco, CA (PRWEB) June 05, 2013
GinzaMetrics today announced its newly upgraded platform in response to the rising spend on social and content marketing. In 2012, the two areas combined resulted in a $16B spend, $1.6B of which was dedicated to supporting technology, and further increases are projected for 2013. GinzaMetrics is the only platform available that conducts daily analysis of major search engines around the world, combined with social signal data, to deliver actionable content recommendations to marketers.
The platform was created in 2010 and quickly backed by Y Combinator and 500 Startups. Proof for the industry's appetite for an earned media recommendation and analytics solution, GinzaMetrics has doubled revenue year-over-year on seed funding alone. The team has also grown to include members in six different countries around the world and has also expanded leadership to match the growing enterprise market.
Today, GinzaMetrics also announced that it named Sean McCullough as its new CTO. As a successful entrepreneur, McCullough will be responsible for establishing strategic technology and engineering for the company.
Ray Grieselhuber, GinzaMetrics CEO, cites the detail of the platform's analytics as a consistent selling point to its enterprise customers.
"When you build your platform for today's technology, meaning a unified search, social and content view, you can rapidly respond to what customers are really looking for," Grieselhuber said. "One of our best-loved features is competitor comparison data. Because it is so granular, marketers are able to dig into the real reasons target audiences are being reached or missed."
GinzaMetrics' new platform UI and features move it into prime position to continue capturing enterprise and agency marketshare. This year, it's anticipated that more than 25 percent of marketing dollars will be allocated to content marketing. According to an annual survey of digital marketers by Adobe and Econsultancy, content marketing is the top priority in 2013.
Anthony Thomas, StickerMule GM and GinzaMetrics customer, shares, "SEO and content marketing are important channels for us to provide great content about the brands and stickers that our customers love. GinzaMetrics provides us with important insights and recommendations to help us reach even more new customers."
Increase Visibility is a full-service digital marketing agency using GinzaMetrics. Byron Hardie, VP of Product / Search, provides insight into how his company uses the platform:
"GinzaMetrics has greatly enhanced our productivity by removing previously manual tasks and streamlining the reporting process. The competitor tracking and daily ranking trends have also provided new insights we can deliver to our clients which has added to our value proposition.
After nearly 20 years in this business and having tried virtually every analytic platform and tool, what has impressed us the most is how responsive GinzaMetrics has been to new feature requests and additions. They make an effort to understand our business and our needs. With GinzaMetrics we don't feel like we have another data vendor, we feel like we have a true partner."
New features to the platform include white label dashboards and data exports, page indexing, and updated competitor comparisons. Get more details about the upgrade and our growing team by reading our blog post.
ABOUT GINZAMETRICS
GinzaMetrics is an enterprise SaaS SEO and content marketing platform. Launched in 2010, GinzaMetrics provides actionable recommendations and analytics to enterprise and agency customers in more than 120 countries and 55 languages around the world. GinzaMetrics is the only solution that provides daily crawls of major search engines including Google, Yahoo!, Bing, Baidu, Sogou and Yandex. The complete platform delivers competitor insights, keyword and page analysis, link data, recommendations, custom dashboards and reporting. To learn more or get a free trial, visit http://www.ginzametrics.com.
For more information:
Laura Worthington
GinzaMetrics
laura(at)ginzametrics(dot)com
(919) 946-5389