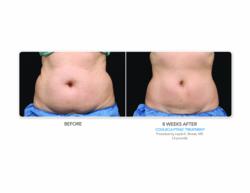 In some cases, CoolSculpting has allowed us to successfully treat areas and get results that may not have been possible with liposuction.
Toronto (PRWEB) June 05, 2013
In the era of social media and constant photo sharing, a smooth and sculpted body seems to be more desirable than ever. More people are exploring cosmetic procedures to help them achieve their body shaping goals, but the downtime associated with liposuction isn't always possible in today's non-stop world. The good news is that non invasive treatments and technology have improved by leaps and bounds, making cosmetic body shaping and sculpting possible for those of us who aren't willing to go under the knife.
One of the most effective non surgical treatments being used to reduce unwanted fat on the body is CoolSculpting®, sometimes referred to as the "fat freezing" treatment. CoolSculpting is a totally non invasive fat reduction procedure that uses cooling technology to effectively kill and eliminate unwanted fat cells from the body. During the procedure, an applicator is placed on the treatment area or "fat bulge" for a 60 minute cycle of controlled cooling. The temperature selectively targets and destroys fat cells, which are gradually eliminated over the course of 4 to 6 weeks. Average fat reduction from one CoolSculpting cycle is 25% of the treated area.
"The results we have seen in patients who have undergone this treatment have been very impressive," reports renowned cosmetic plastic surgeon Dr. Trevor Born. "In some cases, CoolSculpting has allowed us to successfully treat areas and get results that may not have been possible with liposuction."
In fact, CoolSculpting has evolved over the years from a treatment solely meant to reduce fat on the abdomen, to a procedure that can address fat pockets on the flanks, back, upper back or "bra bulge," and even inner thighs. This increased ability to maneuver and position the CoolSculpting applicator has given providers the capacity to treat the body holistically, instead of being limited to a single area. For this reason, Dr. Born and TMB Cosmetic Surgery are adopting CoolSculpting's new best practice of "Treatment to Transformation." This new protocol is a more comprehensive approach that aims to optimize results with patient-specific placement of the applicator and treatment sessions.
"With Treatment to Transformation, it's no longer about one area, one applicator, one cycle," explains Dr. Born. "We look at the individual and design a multi-faceted treatment plan in order to get the maximum amount of fat reduction, and most aesthetically pleasing body contour."
CoolSculpting is an exciting option for those patients who wish to re-shape and transform their body with no downtime and no surgery. Those interested in the procedure should make sure to seek out an experienced provider that bears the "CoolSculpting Certified Practice" symbol.
---
BIO
Dr. Born enjoys a well deserved reputation as one of the most elite, progressive and meticulous surgeons in North America. Dr. Born frequently contributes his measured, well informed and influential opinions in the media and has been featured in the pages of Vogue, Oprah Magazine, Toronto Life and Hello! Magazine. He also regularly appears on the local news, the Dr. Marla Shapiro Show, The Marilyn Denis Show and eTalk.
Dr. Born holds a BSc from Queen's University and received his Medical Degree from McMaster. His postgraduate training included an internship at Mt. Sinai Hospital and a residency in Plastic and Reconstructive surgery at the University of Toronto where he is now a faculty member. The TMB Cosmetic Surgery practice was founded in Toronto in 1996 and has since expanded to include a practice in New York City on Fifth Avenue.
Dr. Born is an active member of several professional associations including:

The Canadian Society of Plastic Surgeons
The Canadian Society of Aesthetic Plastic Surgeons
The American Society of Plastic Surgeons
The American Society of Aesthetic Plastic Surgeons
"I believe that plastic surgery is part of a lifestyle choice. That is why I focus on my patient's goals, and the changes THEY want to see and feel. The objective is always to avoid an operated look, and to maintain and enhance a person's beauty."
– Trevor M. Born M.D.