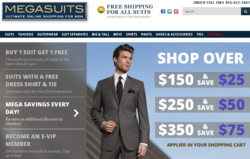 "Our entire team at Megasuits.com takes pride in providing men the highest quality suits available at a price that is within any budget," says founder Sebastian Taheri.
(PRWEB) June 05, 2013
To celebrate the unveiling of their new site, Megasuits.com will be lowering prices through August, 2013.
Megasuits.com has recently undergone a complete renovation of their already popular online shopping site for men's designer suits. The new site went live on Wednesday, May 1st sporting a more sophisticated look and a better overall shopping experience. Their impressive selection will only increase as they continue to offer brand names such as Calvin Klein, Ralph Lauren, DKNY, Baroni and Max Davoli.
With the launch of their new site, Megasuits.com will be running a promotion until the end of August. A considerable discount will be applied to Megasuits' most popular items. Brand name,high demand suits will drop from $600 to $375, passing along a savings of over $200 to the shopper. This limited price reduction will not take away from the well-known promotions Megasuits.com already has in motion, such as the "Buy 1 Suit, Get 1 Free," or the "Save Everyday" deal that allows shoppers up to $75 off their purchase.
Megasuits.com works to provide an array of style to their customers, making sure everyone from the businessman to the groom can find what they need. Men's slim fit suits, traditional suits, tuxedos and even boy's suits are all among the selection offered at Megasuits.com, but with the new transition comes an even bigger collection of high-end attire. This new revamping proves the site's constant commitment to offer quality suits at affordable prices.