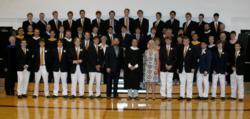 Bethlehem, CT (PRWEB) June 06, 2013
On June 1, 2013, The Woodhall School celebrated its 30th Convocation. The ten graduates of The Class of 2013 will be attending Adelphi University, The Citadel, Johnson State College, Manhattanville College, Rensselaer Polytechnic Institute, Rocky Mountain College, Samford University, Stevens Institute of Technology, University of the Ozarks, and Wright State University.
Diplomas were awarded by Head of School, Matthew C. Woodhall and Board of Directors President, Patricia R. Burns. The valedictory address was given by Alexander Jacob White. The salutatory address was given by Joshua Arthur Fand and Nathaniel James Wheeler.
Commencement speaker, Jason Alan Snyder, '88, who graduated when The Woodhall School was four years old, spoke of his experiences as a patent-holding inventor of digital technologies and as Product Designer at AOL and Yahoo after graduating from Woodhall.
In 1982, The Woodhall School was co-founded by Mrs. Sally Campbell Woodhall and Dr. Jonathan A. Woodhall as a school for young men who represented a paradox: they were bright, yet they had not found success. The mission of The Woodhall School is to provide an opportunity for success to young men of above-average intellectual ability in grades 9-12, who have had difficulties in traditional school environments. The school embraces an individualized approach that allows each student to realize his potential and to take accountability in all areas of his life.
The school is located at 58 Harrison Lane in Bethlehem and can be reached at woodhallschool(at)woodhallschool(dot)org or 203-266-7788.