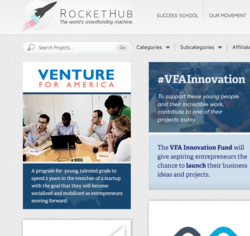 This is really the first step toward giving our Fellows the opportunity to one day launch their own businesses and create jobs. - Andrew Yang, CEO and Founder of Venture for America
New York (PRWEB) June 04, 2013
Venture for America, a fellowship program that helps recent grads become entrepreneurs, announced today that it will be offering its Venture Fellows the opportunity to use RocketHub, a crowdfunding platform, giving them the chance to compete for $25,000 in funding for their projects and ideas. For the first time ever, this "Innovation Fund" will offer the opportunity for these young entrepreneurs to access money available only to Venture for America Fellows.
Additionally, American Express OPEN Forum, a sponsor of Venture for America since 2012, will provide support for VFA Fellows with access to its advice-sharing platform, featuring powerful expert insights and a community of entrepreneurs. VFA Fellows will be able to leverage OPEN Forum's network of entrepreneurs to exchange advice and make informed decisions related to a variety of business topics.
"We are thrilled to give our Fellows the opportunity through the Innovation Fund to begin launching their projects and ideas," said Andrew Yang, Founder and CEO of Venture for America. "This is really the first step toward giving our Fellows the opportunity to one day launch their own businesses and create jobs."
The projects competing in the challenge include a non-profit that teaches entrepreneurship in middle schools in New Orleans and Detroit, a networking app based in Providence, RI, and a sandwich shop in the up-and-coming "Over the Rhine" neighborhood in Cincinnati, OH. The Fellow that raises the most money through RocketHub between now and July 8th will receive $10,000 from the Innovation Fund, with other prizes for second and third place. To learn more about their projects and contribute to their ideas, you can visit VFA.RocketHub.com.
"RocketHub is excited to partner with Venture For America to support their initiative of revitalizing American cities through entrepreneurship," said RocketHub CEO, Brian Meece. "Crowdfunding now plays an important role in bringing innovation, jobs, and opportunities to communities across the nation."
Venture for America's Fellows are recent college graduates chosen through a rigorous, multi-stage application and selection process. By giving these aspiring entrepreneurs a pathway to join startups and providing them with training and mentorship, Venture for America hopes to mobilize these young people as entrepreneurs moving forward. Fellow Innovation Fund Projects can be viewed at VFA.RocketHub.com.
About Venture for America
Venture for America is a registered 501c3 non-profit corporation designed to do for entrepreneurship what Teach for America has done for education – provide a pathway for young, talented grads to become business builders and job creators in areas of need. In 2012, VFA sent its inaugural group of 40 recent grads from the top U.S. universities, called "Fellows", to join start-up companies in low-cost cities around the country, including Detroit, Providence, New Orleans, Cincinnati, and Las Vegas. In 2013, VFA will send 65 additional Fellows to its original five cities, as well as Baltimore, Cleveland, and Philadelphia. Philanthropic individuals and companies supporting Venture for America include Tony Hsieh, CEO of Zappos; Andrew Weissman of Union Square Ventures, David Tisch of Techstars, and Dan Porter of OMGPOP. It has established partnerships with Detroit Venture Partners, Betaspring, Bizdom U., the New Economy Initiative, Rhode Island Center for Innovation & Entrepreneurship and other regional start-up accelerators, investors, and incubators.
About American Express OPEN Forum
American Express OPEN Forum is an advice sharing platform featuring powerful expert insights and a community of entrepreneurs. Our focus is on unlocking the collective knowledge of entrepreneurs and growth-minded business owners by creating a community where they can come together and share their experiences. To learn more visit OPENForum.com.
About RocketHub
RocketHub is an international, pioneering, open community that has helped thousands of entrepreneurs, scientists, artists, and social leaders raise millions of dollars. Part of RocketHub's mission is to educate the public on the power of the crowdfunding model. As a result, the founders have lectured on crowdfunding at top schools and conferences around the globe, and have even testified in the U.S. Congress on the power of online fundraising.