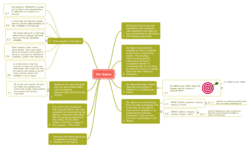 Mind map templates and samples now available to kickoff Quality Initiatives in organisations.
San Jose, CA (PRWEB) June 04, 2013
At CS Odessa we have a large contingent of customers who use ConceptDraw Products in their organization's quality initiatives to better understand and address quality management issues within their organizations. We at CS Odessa are pleased to announce the release of the Quality Mind Map Solution to better address the needs of quality management teams.
Many individuals and teams like working from an initial template map to kick-start a quality project. The Quality Mind Map Solution provides seven new map templates and samples that focus on some of the different aspects of working on quality initiatives. The templates are easy to understand and cut through the initial start-up process.
ConceptDraw Products and how they are used by individuals to work with quality:
ConceptDraw MINDMAP — observation of baseline conditions, brainstorm solutions, identify project tasks, presentation of solutions ($199 suggested retail).
ConceptDraw PROJECT — development of project plans and management of resources ($199 suggested retail).
ConceptDraw PRO — flow charts, swim lane diagrams, org charts, fault tree analysis, TQM diagram, value stream map ($199 suggested retail).
ConceptDraw Office — contains ConceptDraw MINDMAP, ConceptDraw PROJECT, and ConceptDraw PRO and affords users a comprehensive range of tools to observe, plan, monitor, and manage quality initiatives ($499 suggested retail).
ConceptDraw Productivity Line: http://www.conceptdraw.com
Find out more about ConceptDraw Products and Solutions here:
About CS Odessa
Founded in 1993, Computer Systems Odessa supplies cross-platform productivity tools and graphic technologies to professional and corporate users around the world. From their headquarters in Odessa, Ukraine, and offices in San Jose, CA, and Boston, MA, CS Odessa sells internationally in over 150 countries, both directly and through resellers. The ConceptDraw Productivity Line has won numerous awards and is used by hundreds of thousands, including Fortune 500 companies, U.S. Federal Government agencies, small and medium businesses, and students and educators around the globe. For more information, visit http://www.conceptdraw.com.