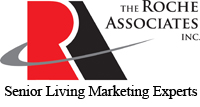 These Webinars will provide senior living communities nationwide with proven marketing strategies and tactics for increasing occupancy rates.
(PRWEB) June 05, 2013
These Webinars will provide senior living communities nationwide with proven marketing strategies and tactics for increasing occupancy rates. These valuable lessons will be come directly from 32 years of client successes, including innovations that have helped some Roche Associates' clients to achieve occupancy rates of 99%+ and many others to maintain 95%+ occupancy rates, even during challenging economic times. Click here for more information about the upcoming Webinars.
These senior living marketing Webinars will take place every other Thursday for the course of two months, beginning on June 13th, when the first one will share Proven Strategies and Tactics For Dramatically Increasing Your Cash Flow and Revenues. Topics covered will include ways to double, triple or more traffic into a senior living community; mastering the "Mind Share" principle to influence prospects and referral parties; sales and marketing oversight strategies to translate "hot" leads into sales faster.
The second Webinar on June 27, 2013 will cover Dramatically Improving Sales Closing Rates: How to Gather Vital Information and "Spin" a Sale to Appeal to Prospects' Emotions. Mr. Roche will teach more about mastering the "Discovery" interview process; creating an action plan to turn a prospect into a sale; and mastering "Spin Selling", based on 12 years of scientific research.
The third Webinar on July 11, 2013 will be about the vital topic: How to Talk Your Prospects Out of Staying in Their Homes, and Convince Them to Move Into Your Senior Living Community. Mr. Roche will cover an array of talking points and tools; ways to pitch the upside of downsizing; overcoming psychological barriers to moving; and more.
The final senior living marketing Webinar on July 25, 2013 will be about Gaining and Maintaining Full Occupancy in Any Economy: Featuring a 10-Point Plan of Action for Success. In this Webinar, everything comes together as Mr. Roche teaches more about setting goals and making an action plan for success, setting up accountability systems; and ways to meet occupancy goals faster.
Webinar size is limited to enable participants to have the chance to speak directly with Mr. Roche, who has been nationally recognized at the top of his field and is featured this summer as a speaker at many conferences, including the California Assisted Living Association conference in Santa Clara, CA this week, and at the Florida Assisted Living Association conference in Weston, FL in August 2013.
Since starting The Roche Associates in 1981, Mr. Roche has managed and participated in over 500 consulting engagements involving the planning, development, marketing, acquisition or sale of over $3 billion worth of senior living facility products and services. During these business engagements, Mr. Roche has trained over 25,000 individuals in various aspects of marketing and selling senior living services. The Roche Associates has generated over 150,000 age- and income-qualified prospective residents and customers to attend programs and functions held at its client senior living communities. Most importantly, The Roche Associates has helped its senior living community and nursing care center clients capture over 15,000 residents and customers during its 32-year history.
For more information about The Roche Associates, Inc, please visit http://www.rocheassociates.com.