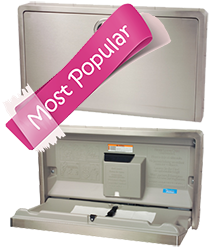 (PRWEB) June 09, 2013
The KB110-SSWM is a proud product of Koala Kare, one of the best-known names in the childcare industry. The model is clad in stainless steel and weighs approximately 50 pounds. It is mounted horizontally into a wall recess, enabling it to maintain a sleek and compact design. The dimensions of the product are as follows: 35.25" W x 20" H x 4" D. Although the product is clad in metal, its interior is made of FDA-approved high-density polyethylene with a grey finish. It is equipped with a sanitary bed liner dispenser and child protection straps. The horizontal design, paired with the contoured interior, improves child safety by allowing parents to stand much closer as they use the KB110-SSWM. Its durable eco-friendly construction will allow the host building to gain Leadership in Energy and Environmental Design credits, while also satisfying the standards set by the American Disabilities Act.
True to the fame of its manufacturer, the KB110-SSWM is one of the most popular products on Babystations.com. The huge price drop is credited to recent key improvements on the company's operations. Despite the promise of additional profit, Babystations.com has resolved to pass on the savings to its valued customers.
Although the company prides itself in offering quality products at affordable prices, its greatest mission is to provide utmost best in customer service. Babystations.com, which was founded by a trio of dads, feels that it better answer childcare needs than other companies without parenting experience. Today, Babystations.com is one of the most well-known names in the ecommerce community, boasting a clientele numbering in the hundreds, if not the thousands.
About the company: Babystations.com is managed by Ekom US LLC. It is an online retailer with a long history of trusted service. They sell a wide array of products that include baby changing stations,child seating, and other childcare accessories. Despite being a product-based business, the company understands the value of providing quality customer service. They provide detailed product information, give out the best prices, do their best to ease purchasing difficulties, and respond to complaints, questions, and products in the timeliest manner possible.