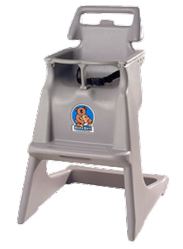 (PRWEB) June 09, 2013
Babystations.com, an ecommerce retailer best-known for its excellent customer service, is now offering a number of its most popular products at a significantly reduced price. One of these products is the KB103, a classic highchair manufactured by Koala Kare . The product has a very traditional design that should fit in well with high-traffic food establishments. It comes in a variety of colors including red, blue, grey, and green. The ADA-approved high-density polyethylene plastic used in its construction ensures the KB103's durability, while the stackable design, recessed back wheels, and optional tray ensures its convenient use. Patrons, whether toddlers or parents, are sure to appreciate your establishment's safe and comfortable highchair!
The company owes its origins to three proud fathers, Cameron, Matt, and Jerry. The team founded the company with one premise in mind – that actual fathers could do a better job at answering the needs of their fellow parents than money-hungry retailers. Thousands of satisfied clients later, Babystations.com still holds true to this founding premise. They sell the best products at the most affordable prices. Their wide selection includes the ever-popular baby changing stations, child seating options, diaper dispensers, bed liner dispensers, and other childcare accessories. However, their true focus lies in the provision of world-class customer service. As a testament to this, Babystations.com has resolved to pass on the recent savings, which have been attributed to key operational improvements, to their customers via the aforementioned price reductions.
About the company: Babystations.com is managed by Ekom US LLC. It is an online retailer with a long history of trusted service. They sell a wide array of products that include baby changing stations, child seating, and other childcare accessories. Despite being a product-based business, the company understands the value of providing quality customer service. They provide detailed product information, give out the best prices, do their best to ease purchasing difficulties, and respond to complaints, questions, and products in the timeliest manner possible.