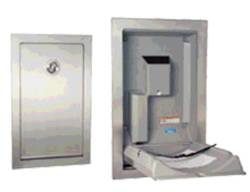 (PRWEB) June 11, 2013
April 26, 2013
Babystations.com, a trusted name in the online community, has announced a jaw-dropping $61.00 price drop on the KB111-SSRE. The Koala Kare baby changing station, which was previously sold for $988.00, is now available for only $927.00. Patrons of the online retailer will be even more delighted to know that the price reductions don't stop with the KB111-SSRE. The company has recently made several key improvements, which have allowed it to enjoy significant operational savings. True to its never-ending mission to provide the best customer service, the team behind Babystations.com has made a decision to pass on these savings to its customers via the aforementioned price reductions.
The KB111-SSRE is clad in stainless steel and can be vertically-mounted in a recessed portion of the restroom wall. When opened, it reveals an interior made from high-density polyethylene with a hinge mechanism specifically designed to ensure durability and user-protection. It comes equipped with child protection straps, which allow parents to securely tie their child down while they change his/her diaper. The bed surface is coated with the odor- and bacteria-reducing Microban® antimicrobial, significantly improving the hygienic factor of the product. Architects and building designers will also be thrilled to know that the product is constructed from 68% recycled materials. This allows the KB111-SSRE to contribute to the structure's LEED credits. It can even comply with ADA standards, provided that it is installed correctly.
Babystations.com was started by a team of entrepreneurial dads named Cameron, Matt, and Jerry. They founded the company with a simple goal in mind – that they could be much more effective in answering the needs of their fellow parents than other money-grubbing online stores. Today, Babystations.com boasts an ever-growing clientele of hundreds, if not thousands, of satisfied customers.
About the company: Babystations.com is managed by Ekom.ca. It is an online retailer with a long history of trusted service. They sell a wide array of products that include baby changing stations, child seating, and other childcare accessories. Despite being a product-based business, the company understands the value of providing quality customer service. They provide detailed product information, give out the best prices, do their best to ease purchasing difficulties, and respond to complaints, questions, and products in the timeliest manner possible.