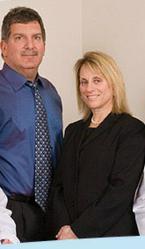 Since we have started using CAMBRA and CariFree, the patients that are following the program consistently are seeing great results
Salisbury Mills, New York (PRWEB) June 04, 2013
Dental decay is the number one chronic disease affecting American youth, surpassing both obesity and asthma. For Dr. Louis Amendolagine and Dr. Geri Friefeld those statistics are no longer daunting. They have taken the top caries research in the world and implemented a cavity prevention program developed by CariFree that is shown to decrease incidents of tooth decay by up to 74%. The system is known as CAMBRA or Caries Management by Risk Assessment. They say: "Since we have started using CAMBRA and CariFree, the patients that are following the program consistently are seeing great results!"
CAMBRA is rooted in a medical model of risk assessment. It requires the dental professional to assess each and every patient's risk factors for the disease and then develop a personalized treatment plan to systematically lower their risk. The CariFree diagnostic tools leverage biofilm testing (to determine the levels of cavity-causing bacteria in the patient's mouth) as well as a risk assessment questionnaire to determine the overall statistical probability a patient will develop new cavities over the next 12 months. Never before has such predictive information been available. Patients can then measurably lower their risk for decay by utilizing professional products and behavior modification.
Patients can expect the entire process to take a few minutes in their appointment. They will answer targeted questions regarding their current habits (eating and drinking, medication use, chronic health issues etc.) as well as undergo a quick, painless swab of their lower teeth (to determine if they have an excess of cavity causing bacteria). If professional products are recommended the practitioner will provide the patient with a professional kit of product specifically designed to counteract their risk factors.
Science has proven that this disease cannot be stopped by the drill and fill approach. True cure requires a medical approach and a comprehensive assessment of each patient. Dr. Louis Amendolagine and Dr. Geri Friefeld have taken a bold and caring step for their patients and community.
For more information on the CariFree system go to http://www.carifree.com. Call now and make your screening appointment at: 845- 496- 4710.
About Dr. Louis Amendolagine and Geri T. Friefeld, D.D.S.
Dr. Louis Amendolagine began his dental practice in the Washingtonville area after earning his DDS degree from Georgetown University in 1984. He is a member of the American Dental Association, the New York State Dental Society, and the American Equilibration Society.
In 2003 he was chosen to be a mentor for Creating Restorative Excellence, a center for advanced dental learning in Seattle, Washington led by Dr. John K. Kois. This honor came only after completing an intense series of advanced courses over several years covering treatment planning, occlusion (how teeth fit together), periodontal (gum) therapy, fixed prosthodontics (crowns and bridges), and implants.
In 2007, Dr. Amengolagine completed the Misch Surgical Program at Temple University School of Dentistry. He completed 150 hours of advanced hands-on training in Implant Placement during this series of courses. He received a Fellowship Diploma from the International Congress of Oral Implantologists in February 2008.
After receiving her DDS degree from Georgetown University in 1984, Dr. Geri Friefeld, along with her husband, Dr. Amendolagine helped to build and establish their private practice. She continues her education through courses and seminars in order to enhance her dental knowledge. She also serves as a panel member on the Surrogate Decision Making Committee for the New York State Committee of Quality of Care for Persons with Disabilities. Dr. Friefeld is an associate member of the American Academy of Pediatric Dentists.
As a mother of two, Dr. Friefeld finds great enjoyment and fulfillment in treating children within her practice. She also visits local schools to educate children on the importance of good oral hygiene with a visual, "hands on" approach.