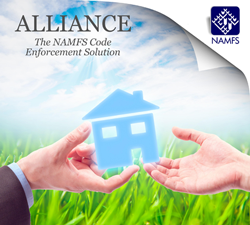 Stow, OH (PRWEB) June 27, 2013
The National Association of Mortgage Field Services (NAMFS) was pleased to sponsor and exhibit at the 2013 Real Estate Expo that was held June 2-5 in Fort Worth, Texas at the Fort Worth Convention Center and Omni Hotel. REX is short-hand for the Real Estate Expo, a national residential real estate conference that offers real estate agents, brokers and associated industry professionals (i.e., title, lending and more) the only truly national, once-per-year event produced by major trade media. Fostering professional and personal growth, REX helps real estate professionals understand new trends, new technology and new ways of building their business for long-term success.
NAMFS Executive Director, Eric S. Miller, was a panelist on the Forum of Code Compliance held on June 3. The HW Forum on Code Compliance is designed to provide communication between portfolio managers, property preservation companies, legal representatives, and code enforcement officers to discuss real property condition concerns/trends, new legal requirements, legal concerns/ownership, communication strategies, and potential solutions. The firms that participated in the inaugural HW Forum on Code Compliance represented leaders in the industry, committed to protecting and restoring local neighborhoods — and to working with local officials to coordinate efforts to ensure the best possible outcome for all parties.
NAMFS introduced ALLIANCE, a code enforcement industry solution in 2010. ALLIANCE is a Web-based communications portal that provides users with an efficient means to share information regarding at-risk properties. The program allows for a cooperative exchange of information enabling all parties involved to connect via a common platform and share information before engaging in a lengthy and potentially expensive violation recording and remediation process.
For more information about ALLIANCE visit namfs.org
About NAMFS
The National Association of Mortgage Field Services, Inc. (NAMFS) is the premier trade association for the mortgage field service industry. We are dedicated to working with all entities of the industry from the Government Agencies and investors that set policy to the contractors and inspectors that perform the work.