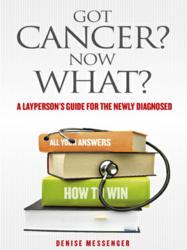 Costa Mesa, CA (PRWEB) June 06, 2013
The book, Got Cancer? Now What?: A Layperson's Guide for the Newly Diagnosed by the author, Denise Messenger, is a winner in the 2013 International Book Awards, the winner of a Gold Medal from the 2012 National E-Lit Awards and a finalist in the 2013 Indie Excellence Awards.
Medicare cancer patients, because of our governments sequester, are being turned away by the thousands from cancer treatment centers throughout the United States. This is largely due to the reductions in cancer drug reimbursements to physicians and medical centers.
"While some might be going to local hospitals for treatment, others may not be as fortunate— depending upon where they live. It is particularly important at this time for cancer patients to learn about other options to save their lives!" says Messenger.
Treatment options are always complex and now some patients are being denied standardized therapies. Based on this, personalized therapy is now even more important.
"There are other options for treatment in the United States and worldwide and now is the time to take a more creative approach," says Messenger.
This brings light to the excellent work of Messenger, in which she methodically shares her research into both traditional and alternative treatment options available for cancer patients.
While modern technology allows for targeted drug therapies and advanced testing, a myriad of information regarding cutting edge tests and therapies from around the world also exists, although finding it can be time-consuming. As technology advances, so do the available treatment options, but practitioners are often unable to keep up with all of them.
Messenger's award winning book is the culmination of years of scientific research and personal experience. It is rich with valuable information for cancer patients and their loved ones while on their journey for finding a cure.
Visit http://www.gotcancernowwhat.com for more information.