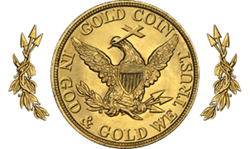 Yes, we have been allowed to own bullion since the mid-70's, but our current administration has made it clear that it will do whatever is necessary to keep our economy from collapsing
(PRWEB) June 04, 2013
The anniversary of U.S. President Franklin D. Roosevelt's enactment of the ban on gold bullion is June 5, and one gold coin dealers has developed an interesting promotion to publicize the United States' 1933 decision to prohibit the hoarding of gold bullion by its citizens.
"It has been 80 years since the U.S. government announced that Americans had to turn in their gold bullion bars, gold bullion coins and gold bullion certificates or face imprisonment, outrageous fines or both," said Stewart Lawson, vice president of marketing for Gold Coin, a large-volume gold coin exchange. "Yes, we have been allowed to own bullion since the mid-70's, but our current administration has made it clear that it will do whatever is necessary to keep our economy from collapsing. In the 1930's, gold confiscation was the only answer, so we'll just have to wait and see if legal precedent takes us down that road again."
According to Lawson, any individual or company that purchases at least $5,000 in certified gold coins on Wednesday, June 5, 2013, will receive an $80 discount per coin. The prices from which discounts will be taken come from the PCGS Price Guide (http://www.PCGS.com) and eligible coins include any of the one-ounce Double Eagle coins in grades 61-66. There is a 100 coin limit per account.
"The 1908 'no motto' gold coin is eligible, as are any of the common-date Saint Gaudens or Lady Liberty $20 pieces," Lawson confirmed. "These coins were minted until 1933 when the confiscation of gold began, and based on laws that have been put on the books throughout the years these are the coins that could survive another bullion confiscation, since similar coins were exempt under Roosevelt's original executive order."
Gold Coin (GoldCoin.net) has over two decades of experience advising household investors on smart physical gold and silver investments and gold coin IRA and 401k plans. They buy and sell all types of precious metals and offer free home delivery. For more information or a free "Gold Coin Starter Kit," visit http://www.goldcoin.net or call 1-800-425-5672 today.