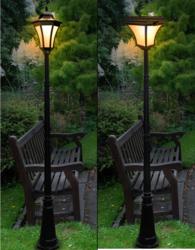 With our impressive technology put into these solar lamps, we will help consumers greatly enhance their outdoor lighting experience without adding a penny to their already expensive gas or electric bills
Vancouver, BC Canada (PRWEB) June 05, 2013
Nature Power, a leading manufacturer of solar related consumer products, introduces their latest products, the Essex and Kona solar powered lamp posts lights.
The solar lamps with their natural white LEDs that produce a more nature light, Nature Power answers the most common customer question about solar lights, "where do I find high quality, distinctive solar lamps that don't have that harsh blue light color?"
Featuring natural white LEDs, respective of a typical exterior lamp, these distinctively designed solar lamps offer a comforting light for any entryway, driveway, or garden area. Or replace that outdated and energy-guzzling gas or electric lighting with either of these energy-efficient solar powered lamps. The powder-coated cast-aluminum solar lamps are weather resistant, thus requiring no maintenance.
The Essex and Kona solar lamp post lights come with an efficient lithium-ion rechargeable battery for better performance and a longer battery life than the standard Ni-Mh batteries. Finally, the convenient exterior High/Low brightness switch offers a personal option for either a brighter light or longer lasting light at night
Comes with a one-year manufacturer warranty.
The Essex and Kona series solar powered lamp posts lights are now available exclusively through: Outdoor Solar Store, YCA Solar Light Store, and Amazon
Nature Power was established in 2010 to help fill a void in high quality, unique solar related products ranging from solar landscape lighting to portable solar power kits. With over 17 years of manufacturing experience and the ability to market to any country in the world, Nature Power is quickly becoming the recognized brand for solar products.