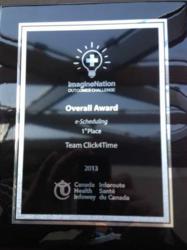 Vancouver, B.C. (PRWEB) June 11, 2013
Canada Health Infoway's ImagineNation Outcomes Challenge announced Click4Time as the overall 2013 winner in the e-Scheduling category for the 18 month Challenge, which included a $50,000 award! This is Click4Time's second Canada Health Infoway award.
The mandate of the Challenge was to promote and increase adoption of e-Scheduling by health providers and the Canadian public. "During the Challenge, Click4Time realized a 3001% growth in the health sector", says Lance Shaler, CEO.
Click4Time's success was clearly demonstrated by the busy Massage and Therapy Centre in Vancouver B.C., who switched from paper to Click4Time's e-Scheduling solution. The stats speak for themselves.
Before using Click4Time, the Centre used a paper appointment book, had no receptionist, relied on their answer machine to record appointment requests, had 18 practitioners and 1,800 clients.
After 10 months, there were 23 practitioners and 2,668 active clients (48% more business) of whom 1,362 book online (51% booking online).
The Centre attributed the business growth to Click4Time's integrated marketing. The increase in appointment bookings was so significant that the Centre imposed a limit on how far in advance clients could book.
Prior to using Click4Time, each month the owner would go to the clinic at 4:00 am to record next month's schedule and always fearful of making double bookings. Although the paper schedule was a work of art, phone tag was common and a substantial frustration for both clients and practitioners.
Now patients book appointments day or night from their computer or mobile devices such as Smartphones. Patients receive automated email or text reminders, can reschedule, auto-sync with their personal calendars and have quick access to service descriptions and practitioner bios.
The owner now relaxes with confidence, no more double bookings, no more phone tag, reduced no shows and a growing business with new clients finding their practitioners on page one of Google!
The Centre reports that their clients absolutely love the online booking service and find the experience engaging, yet simple and fun!
For more information on Click4Time's Award Winning e-Scheduling Appointment Booking Software, please contact Geoff Spooner at 1-604-210-1039 ext 503 or 1-877-425-4254 ext 503 or email Geoff(at)Click4Time(dot)com. You can signup for Free or learn more at http://www.Click4Time.com.