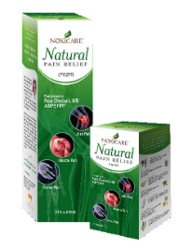 Washington, District of Columbia (PRWEB) June 04, 2013
Suffering from any kind of chronic pain can affect a daily life and it can be frustrating to find real solutions. Doctors offer different opinions and pain relief products make unrealistic promises, but pain is a daily reality. Whether dealing with muscle pain, nerve pain, or arthritis pain, pain relief cream may be able to provide some relief. But distinguishing between dangerous narcotic pain relievers and safe topical creams can be difficult for many consumers. Noxicare™ Natural Pain Relief establishes itself as a safe choice that is registered by the FDA (NDC 51230-391-01) and praised by users everywhere.
Beware Of Addictive Products
Perhaps the biggest problem with most pain relief products on the market is the potential for addiction. Ever undergone a medical procedure or surgery? Doctors prescribe certain pain medication for a very limited timeframe. Unfortunately, for people dealing with chronic pain, these kinds of limits can be ignored. In many cases, the price for pain relief is an ongoing addiction to a pill or pain relief cream that only provides temporary relief. This doesn't have to be the only solution.
Natural And Non-Addictive
Noxicare™ sets itself apart from other pain relief creams in several ways. In response to consumer demands for a product with non-addictive qualities, Noxicare™ was developed with all-natural ingredients including turmeric, rosemary, and ginger. Rather than just numbing the point of pain like many other topical creams, Noxicare™ helps promote the body's own natural healing agency. It is a safe, non-addictive topical alternative.
What Kind Of Pain Can Noxicare™ Relieve?
While natural and non-addictive may sound great, some may be wondering: Does Noxicare™ actually work? In fact, Noxicare™ was shown to exceed customer expectations in a recent third party clinical trial. People experience many kinds of body pain for different reasons. Whether the pain is from a medical surgery, accidental injury, or chronic condition, Noxicare™ may provide an answer for three areas of pain:

Simple Use With No Side Effects
Another frequent complaint about other products on the market is undesired side effects. A pain reliever isn't really improving the quality of life if it solves one problem only to create another. Users of Noxicare™ have found no negative side effects after consistent use over time. Pain relief cream should be simple to use, and Noxicare's formula is odorless upon application. If searching for a solution that is safe and can make a difference with pain problems, it may be time to give Noxicare™ a try.