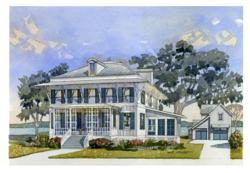 This popular annual home design project from Coastal Living magazine typically draws thousands of visitors from across the nation who come to see the latest innovations and ideas in coastal design and construction.
CHARLESTON, S.C. (PRWEB) June 05, 2013
The tour dates and ticket details have been announced for the 2013 Coastal Living Showhouse, a showcase of coastal home innovation, decor and construction located on a deepwater homesite overlooking the Wando River on Daniel Island in Charleston, S.C. The newly constructed home from Max Crosby Construction will be open to the public for touring June 28 through October 20. Tickets are $15 per person with a portion of proceeds benefiting the Greater Carolinas Chapter of the Multiple Sclerosis Society. Tickets are available for purchase on-site during regular tour hours and online at danielisland.com/coastalliving.
From June 28 through August 18, the home will be open Wednesdays through Saturdays from 10am - 4 pm and Sundays from noon to 4 pm. From August 23 through October 20, the home will be open Fridays and Saturdays from 10 am - 4 pm and Sunday from noon to 4 pm.
This popular annual home design project from Coastal Living magazine typically draws thousands of visitors from across the nation who come to see the latest innovations and ideas in coastal design and construction. The all-star design team behind the 2013 Coastal Living Showhouse on Daniel Island includes Builder Jamison Howard of Max G. Crosby Construction Co. Inc; Interior Designer Ginger Brewton of Ginger Brewton Interiors; Our Town Plans, provider of the architectural design; and Jeff Elliott of the Daniel Island Company, provider of the landscape architecture design.
Sponsors of the showhouse include AZEK Building Products, Belgard Hardscapes, Bevolo Gas & Electric Lights, Circa Lighting, First Federal, Home Telecom, Laura Ashley, LEE Industries, Lloyd/Flanders, Marvin Windows & Doors, Metal Roofing Alliance, Moen and Sunbrella.
The 2013 Coastal Living Showhouse on Daniel Island will be included in a special editorial section in the October 2013 issue of Coastal Living. For further information about the project, directions and to purchase tickets, visit danielisland.com/coastalliving.
About Coastal Living
A national magazine brand that celebrates life along the coast, Coastal Living (http://www.coastalliving.com) is the source of inspiration and information for people who live or dream of living a coastal lifestyle. Celebrating 15 years of publication in 2012, Coastal Living serves a total audience of 3.9 million. Coastal Living is available on all tablets and is published by the Time Inc. Lifestyle Group, a division of Time Inc., the largest magazine media company in the U.S.
About Daniel Island
Located within the City of Charleston, Daniel Island is a 4,000-acre island town featuring traditional neighborhoods, outstanding private golf, professional tennis and soccer facilities and a growing collection of amenities in a self-contained island town setting. The island's downtown is home to schools, churches, medical offices, boutiques, restaurants and many other conveniences. Hundreds of acres of parks, 23 miles of rivers and creeks, leisure trails and a private country club provide residents with endless recreational options, and the community's central location within Charleston puts it within a 20 minute drive of the city's famous downtown historic district, area beaches and airport. A highly-desirable destination for Charleston real estate, Daniel Island has been honored with numerous accolades including a prestigious "Award for Excellence" by the Urban Land Institute.
About Max Crosby Construction
Max Crosby Construction (http://www.maxcrosbyconstruction.com) has been a major contributor to the Charleston, SC area housing market since 1977 as a leading custom home builder placing tremendous emphasis on quality, attention to craftsmanship, and diligent dedication to customer service. Named as one of Charleston's "Most Influential Builders" by Charleston Home and Design Magazine, Max Crosby Construction was the exclusive builder of the 2006 Southern Living Idea House and has the distinct honor of being selected the custom builder of the 2013 Coastal Living Showhouse.
About Ginger Brewton Interiors
After studying at the distinguished New York School of Interior Design in Manhattan, Ginger founded her studio in 2005. Ginger Brewton Interiors is a full service, high-end, residential and commercial design studio. The firm combines classic design philosophies, international style and color, and expert architectural collaboration to best implement your aesthetic choices. It is the GBI mantra to design interior solutions that fulfill your desire to live well. Named one of 2010's Top 20 Next Wave of Interior Designers to Watch, Ginger is an allied member of the American Society of Interior Designers.
About Our Town Plans
Our Town Plans offers high quality, pre-designed home plans based on America's rich architectural heritage that reflect familiar architectural themes. Suitable for a variety of settings, these plans capture the charm and sense of place found in historic towns and neighborhoods throughout the country. Our comprehensive set of architectural drawings gives the builder all of the information and details required to build a structure of exceptional quality.