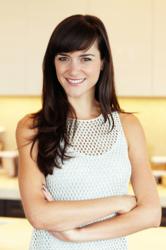 "Darya Pino Rose gives the most sensible advice I've read about attaining and maintaining healthy weight without dieting." —Andrew Weil, MD
San Francisco, CA (PRWEB) June 04, 2013
As travel season heats up, Darya Pino Rose—a neuroscientist and the creator of Summer Tomato—explains how to eat in your favorite restaurants without losing your bikini figure. In her new book FOODIST: Using Real Food and Real Science to Lose Weight Without Dieting, she suggests simple menu swaps to keep busy travelers fit and fully satisfied while on the road:

Breakfast: If potatoes or pancakes are already on the plate, skip the toast and ask for a side of fruit instead.
Lunch: When ordering your sandwich, swap out overly processed mayonnaise for delicious, fresh avocado.
Dinner: If beans, lentils, or veggies are available on the menu, order those instead of quickly digesting rice or bread.
Drinks: Order wine instead of a cocktail; although wine certainly has calories, cocktails usually have hundreds more thanks to the liqueurs and syrups typically used.
Dessert: Skip the crème brûlée and order the cheese plate, a much healthier option.
Anytime: Eat anything (or nothing) instead of American cheese, which is made from processed corn starch and oils, and barely a trace of real milk.
Smart, accessible, and engaging, FOODIST helps tailor eating habits to match individual lifestyles, travel, and food preferences, making sure the path chosen works in both the short and long-term. Not only does FOODIST help to permanently build healthier habits into daily life, it explains how to lose weight and enjoy food like never before—in the summer months and beyond.