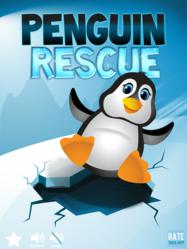 Kalamazoo, MI (PRWEB) June 05, 2013
Learning Gems has created a new app called Penguin Rescue, which features cute characters and colorful, high-definition graphics that can be downloaded in the Amazon, Apple and Barnes & Noble App Stores as well as in Google Play for $.99 cents.
In Penguin Rescue, participants are challenged to solve world puzzles in a Hangman-meets-Wheel-of-Fortune style of gameplay. First, to setup the scene, this game takes place in a snowy tundra. Aside from correctly guessing words, the goal is to rescue penguins who have fallen through the ice and are trapped in ice caverns. To do this, words must be guessed correctly so blockages can be cleared, allowing the penguins to swim to safety.
To begin the game, a category of words or the random option must be selected. Choices aside from random include animals, fruits, sports, art, Harry Potter, musical instruments and more. Once a category has been chosen, the participant will be presented with a word to guess and a QWERTY keyboard, which has snowball keys with letters on them. Letters are guessed by choosing and launching the snowballs up towards icicles that are hanging in each ice cavern, just above the word. If a letter is guessed correctly, it appears in the word and causes an icicle to fall, which chips away at the blockage holding the penguins hostage inside the cavern. As gameplay progresses, words get more difficult.
When a word is completed successfully, a penguin is rescued, which leads to another interactive feature of this latest app from Learning Gems. Each saved penguin goes to Penguin Village, which can be visited from the home screen of the app. Rescued penguins can be placed in the village, resized by pinching and zooming, and moved around as you see fit. There is also a rescue board that shows all saved penguins as well as those that are still missing, encouraging participants to keep playing to free them all.
Learning Gems is a venture of Blue Fire Media. Based out of Portage, Mich., the group of individuals behind these apps strives to create educational tools for mobile and tablet devices. Other apps from Learning Gems focus on an array of topics, such as math, spelling for grades first through sixth, basic colors and shapes, U.S. history and geography, memory and more.
The parent company, Blue Fire Media, designs and develops websites, provides SEO strategies and other digital marketing services for businesses in all industries. For more information, visit the company's website.