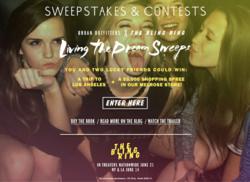 Philadelphia, PA (PRWEB) June 04, 2013
Oscar award winning writer and director Sofia Coppola's new film The Bling Ring tells the story, based on actual events, of a group of teenagers obsessed with fashion and celebrity that burglarize celebrities' homes in Los Angeles. Tracking their targets' whereabouts online, they break-in and steal their designer clothes and possessions. Reflecting on the naiveté of youth and the mistakes we all make when young, amplified by today's culture of celebrity and luxury brand obsession, we see through the members of the 'Bling Ring' temptations that almost any teenager would feel. What starts out as teenage fun spins out of control and leaves us with a sobering view of our culture today.
The film, set to premier in NY and LA on June 14th and nationwide June 21st, stars Emma Watson, Taissa Farmiga and Leslie Mann, as well as newcomers Israel Broussard, Katie Chang and Georgia Rock.
Today, Tuesday June 4th, Urban Outfitters along with A24 and Filter Magazine launch the Living The Dream Sweepstakes, where one lucky winner and two friends can enter for a chance to win a trip to Los Angeles, California and a three thousand dollar shopping spree at the Urban Outfitters located at 7650 Melrose Avenue. Sweeps ends on June 25th 2013.
Throughout the month of June, the Urban Outfitters Blog will feature exclusive interviews with The Bling Ring co-stars Israel Broussard (Marc), Claire Julien (Chloe), Costume Designer Stacey Battat and award winning Journalist Nancy Jo Sales, author of the acclaimed Vanity Fair article, " The Suspect Wore Louboutins," the basis for Coppola's film and THE BLING RING: How a Gang of Famed-Obsessed Teens Ripped Off Hollywood and Shocked the World.
For more information on Urban Outfitters X The Bling Ring Living the Dream Sweepstakes visit http://contests.urbanoutfitters.com/uoxtheblingring or contact Crystal Carroll at ccarroll(at)urbanoutfitters(dot)com.