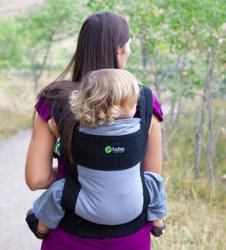 Boba Helps Parents Stay Active!
West Des Moines, Iowa (PRWEB) June 06, 2013
Bliss Baby & Maternity adds Boba to their product line up. Boba is a company that produces Baby Carrying products that allow parents to easily go places with their baby. Boba designs thoughtfully crafted products for active parents who want the time and freedom to create a real and caring both with their child, while living life to the fullest. There is the BobaAir, Boba Carrier (The classis Boba 3G Carrier), Boba Wrap, Boba Hoodie, and the Boba Vest, There is even a mini carrier for children to carry their dolls around.
Baby wearing is a great way to be close without having to carry baby. Many backs have been saved by not having tote baby around but wearing them. The Boba Carriers makes it easy with no strain on arms, shoulders, or back.
The Boba Carriers allow baby to sit comfortably, and not have legs dangling. The Boba carriers are easy to put on and wear. The Boba carrier is a high quality fabric with heavy duty stitching. The carrier comes with a hood for baby's head and can easily be taken out from the zipper pouch and put over baby's head. Also included are foot straps for a toddler. The hood and the foot straps come with the Boba Carrier 3G. The carrier can hold babies/toddlers from 7-45 pounds. The Boba has a convenient pocket where a debit card, cash, and keys can be stashed for easy access.
The benefits of baby wearing are great. Carried babies cry less, are healthier, get a better view of the world, become independent faster, sleep better, learn more, and are happier. Carrying babies upright can mimic the environment of the womb and prevents ear infections. It regulates body temperature and relieves baby stress.
Carrying a toddler has benefits as well. This enables better communication, is convenient, allows safe movement with baby along rough terrain, is healthy for moms and dads, and helps with interaction with a child.
There are so many great benefits of using a baby carrier and it is an enjoyable experience as well. Please check out the variety of Boba carriers at http://www.blissbabyandmaternity.com. Stop by soon to receive a discount at checkout by entering SUMMER10 for 10% off the order.