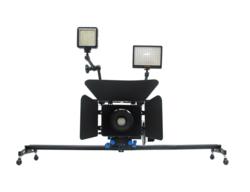 Sewell Direct plans to help hobbyists and professionals alike get the most out of their cameras and produce true works of art.
Orem, Utah (PRWEB) June 06, 2013
Camera equipment is becoming more and more affordable every day. It wasn't long ago that only professionals could afford high quality gear, but now everyone has the opportunity to tap into their inner photographer or filmmaker. With a full line of high quality DSLR accessories, Sewell Direct plans to help professionals and hobbyists alike get the most out of their cameras and produce true works of art.
Filming with DSLR cameras is a relatively new practice and it offers a new set of challenges to the filmmaker. Because DSLR cameras are so small and lightweight they are extremely sensitive to movement. Without the proper equipment, footage can be rendered so shaky and jittery that it becomes unusable. After all, no one wants to get seasick watching a movie. That's why Sewell Direct is offering an extensive line of stabilizers, shoulder rigs, dollies, and slider tracks to help filmmakers get smooth, professional shots without sacrificing mobility.
But Sewell isn't only focusing of DSLR filmmaking, they also have many different accessories to help filmmakers and photographers alike. Their innovative quick straps allow users to comfortably and securely carry their camera when not in use, while still keeping it ready to use at all times. Their straps come in two varieties: a single strap and a dual strap. The single strap will securely hold one camera. It uses the tripod mount to ensure that the camera is attached securely and has a padded shoulder strap for comfort. The dual strap allows users to carry two cameras at once, along with other accessories. This is handy for those who constantly need to switch between two different lens types or who want to use both digital and film cameras.
In addition to straps, Sewell is also offering a full line of protective covers. Inspiration doesn't only strike on sunny days. Sewell's different protective covers allow photographers and filmmakers to continue shooting, even in bad weather. Their covers include lightweight summer covers, full size covers that accommodate professional flashes, heavy duty winter covers, and regular covers.
But Sewell's accessories don't stop there. They also offer accessory cages, lens covers, white balance caps, articulating arms, and more! With so many different options, Sewell's accessories allow photographers and filmmakers to find everything they need to get the perfect shot to tell their story.
Sewell Direct designs, develops, manufactures, and sells a wide variety of different hardware connectivity products and accessories for electronics. From cables, to adapters, to DSLR accessories, Sewell Direct supplies all sorts of innovative solutions to today's problems. After starting in 2003 Sewell Direct has become a leader in these areas through innovation, creativity, and fantastic customer service and technical support.